Adam Kay interview
It's a Wednesday afternoon in West London, and I'm sitting in the foyer of a posh members club awaiting an in-demand, million-selling author. Which doesn't happen every day.
Thankfully Adam Kay - who soon ambles in - doesn't act like a man whose book is absolutely bloody everywhere right now. And it is pretty bloody, in places. This is Going to Hurt is the book of the stage show of the life of a junior doctor, who eventually succumbed to the stress of it all, then moved into music-based comedy and TV script-doctoring.
We'll get onto the latter stuff another time. This chat - and that book - covers the period between Kay earning his scrubs and hanging up the stethoscope. TIGTH is culled from the diaries he kept while working his way up the medical ladder, much of it in labour wards, and the widely-read result is truly sensational. Honestly, a regular person reading This is Going to Hurt is like a rabbit reading Watership Down, if Watership Down was stitch-splittingly hilarious too.
Now Kay is back out on tour, with This is Going to Hurt, Live - the show of the book of the show - and the success of the whole TIGTH experience is a welcome one. The whole point of revisiting those diaries was to highlight the harsh, often hazardous extremes that NHS doctors are forced to endure under the current system, putting patients and themselves at risk. Now Kay is turning it into a BBC TV show, more of which below.
We also get onto Mark Thomas' excellent live show Check-Up: Our NHS at 70, which is currently touring and highly recommended too. Both paint a stark (but impressively entertaining) picture of a system that's teetering on the brink due to decades of top-level mismanagement. And Brexit could be the final straw. The question is, how badly do we want to save that camel?
Part 1: The articulate conception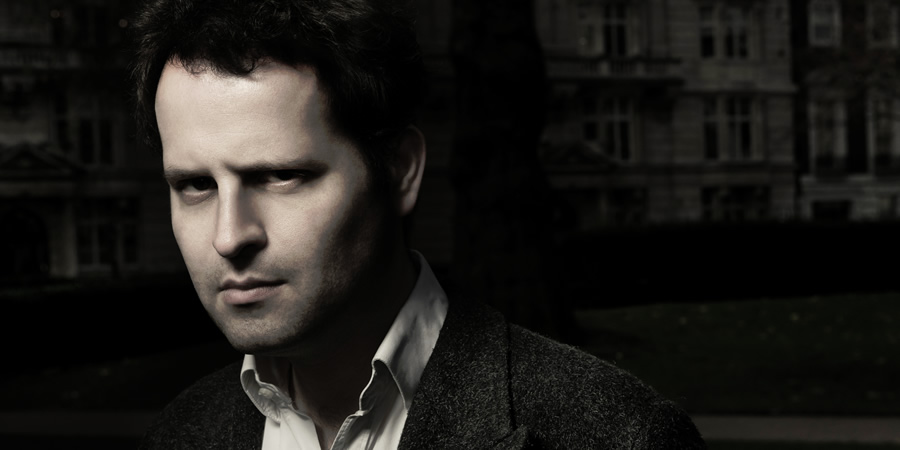 The book and show are based on diary entries you wrote while doing about a million hours a week as a junior doctor. I'm amazed you had time...
I was writing stuff down every day. The game of turning this into a book, it was almost like running a sound desk, all the different levels: sad, funny, home life...
You had to keep records. Some of it was on official paper, some was on computer, most of it was just on scraps; doctor's notes.
You had no concept back then that it had potential?
I don't really know what I was thinking at the time, for me it was a way of documenting things. In retrospect it was my therapy, my brain was finding a way of coping, and that was the way.
I was aware that these were good anecdotes - I had no shortage to upset friends with in the pub - but when it had all crashed down, and I moved into writing other things, I was very keen to prove that I was something other than a guy that used to be a doctor. I'd be on a show and a producer would say 'have you ever thought of writing a medical...' No no no no!
That's interesting: I reckon most writers would mine this gold straight away.
It was actually a bit raw, I didn't want to think about it. It was only that I had a reason to revisit it - junior doctors coming under fire a few years ago - that I realised I was fine with all of that.
I can't remember how I felt when that row was happening, but I'm a hell of a lot more sympathetic towards junior doctors since reading the book.
I don't blame anyone who sided against the doctors then, because the message which the government were putting out - which was incorrect - was that the doctors wanting more money were selfish, whereas it was about working conditions and patient safety. So I wanted to present the other half of the dataset.
Hopefully [the book] doesn't tell you what to think, it just gives you some more facts, so next time people can make your own mind up.
It's quite telling how I keep seeing the book on trains.
It's because you live in the sticks, you're always on trains...
That's true - I feel like there's someone on every carriage reading it, which tells you something.
Almost by definition, if a book's sold more than seven figures, it's broken out of the regular people who read what's on the bestseller list.
It's always nice to hear when a good comic gets a book deal, but they often vanish without trace - presumably the book industry got behind this one?
They thought it had something. Then when it started overperforming, which was last Christmas, it took on a life of its own. People start recommending it to each other.
It had a weird comedy-based genesis. I think of Edinburgh as like the AGM for comedians, it's the only time I see my friends, and Mark Watson came along to my show.
In the book's acknowledgements it says that he started it all.
He did! He invited his mate to see the show, and she's now my editor. She came up to me afterwards and said 'how much of this have you got? Do you think it's a book?'
Part 2: Creating a page-turner. Then telly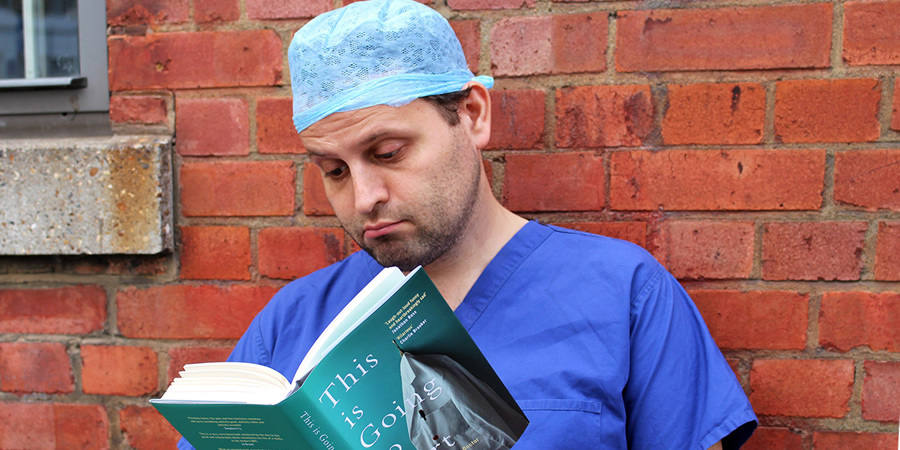 There's quite a jump at the end of the book, from leaving medicine to explaining that you're now a script doctor - did you think of joining those dots up?
I did. But I thought this story sort of ends when I leave medicine.
Ah, so there could be a sequel?
A weird, more navel-gazing sequel. This story ends when I leave, and after that it's more of a discussion of doctors as humans. It was a deliberate decision.
You had to change a lot of the names etc, but how much were the diary entries changed to make them readable?
Some of them needed almost nothing doing, some were just bullet points on a post-it note. My initial thought was 'just publish them,' all the incomplete sentences, but the publishers said 'no, people like full sentences.' But the book got commissioned because the source material was already funny, it was a two-month process, assembling it, choosing the ones to do, writing footnotes.
That sounds alright. Robin Ince was going through agonies writing his book last year...
I feel a bit of a charlatan, because I didn't.
Its fair enough though - you put the hours in earlier. So can you do a sequel, a diary about what you do now?
I'm doing a similar book for Christmas, the same sort of thing, but a gift book, The Nightshift Before Christmas, about what it's like being in that peculiar place at that peculiar time. Quite a lot of good Christmas stories got axed, because otherwise it's a bit weird.
And now you're working on a TV version?
I'm writing it at the moment, it's been commissioned by BBC Two, we don't have any dates yet. We've got the format, writing the scripts. It's at that stage. It's 45 minutes, eight episodes.
Can you tell us anything about it?
I can tell you anything you like! That [points at my copy of TIGTH] is a very narrow world, as it's all me, so I've had to build up the world, with slightly fictionalised characters, otherwise I'd go straight to prison.
It's a comedy drama, it's clearly not a sitcom, and clearly not just a drama, even though the saddest and most dramatic things do happen. It's a drama with a funny lead, I guess. So it's trying to get that line right, and I'm really pleased so far with how it's going. I've got an amazing production company doing it [Sister Pictures].
And you've got TV experience too...
Yeah, I've got various flying hours, but more in comedy. [p= 29031]James], my partner, is an exec on it, he's from the drama world: he's making the Game Of Thrones prequel at the moment. So even though I'm just a comedy idiot, I've got a lot of drama friends around me.
The structure of the book almost feels dramatically scripted. I was just rereading it on the train, and there's a death really early on...
That's the nature of the job, and I can't pretend it's anything else - one day there'll be a hilarious story you'll tell for 20 years, the next day, that happens. It doesn't have a clever narrative arc, it has the arc of what happens as a doctor. So I need to bottle that in the TV show.
Part 3: Saving the service
Did you see Mark Thomas' Check Up show, which is touring at the moment?
I didn't, I wanted to, I need to catch it.
I was expecting a rant at the government, but he's very pragmatic about the difficulties and what needs to be done. Paying more tax, for a start.
It's about more than politics. I wanted people to read my book and get angry, no matter what colour tie they wore. It should be above politics. To me the answer involves having a big grown-up conversation in this country about what we want the NHS to be and to provide, and how we want to fund that.
If, as I hope, we want the NHS to be what it was founded to be - free at the point of service, based on clinical need not bank balance, and that's what we decide, then we need to spend more money.
Or, if we decide 'oh we're spending enough money, there's something inherently wrong' - and I hope that's not the case - then there will be a shortfall and that has to come from some insurance-based thing, or other model. I'll be fine, you'll be fine, but the people who won't be fine are the people who have no voice.
I write every now and then for the papers, and people will always suggest 'just pay £5 when you visit a GP...'
That's where it starts...
That is where it starts, yeah, but for lots of people £5 is unimaginable money, it's their kids eating or not. Those are the people that will suffer. Any health service in the world, as soon as there's a two-tier system, the people who have least are the people who suffer most.
What did you make of that recent announcement about the extra billions going in?
There's more money going in now than there was a few years ago, and that's a good thing. But to be boring, the concept is health inflation - the amount of money in real terms you need to put into a health service so it can tread water, provide exactly the same services as it did last year - and that's about 3%.
Historically in the NHS it's had at least 3% going in, but for a period of about eight years, the amount going in was about 1% in real terms, so the system is now stretched atom-thin. And so we're now back at the 3% level, which is good, but no allowance has been made for the fact that there were these sort of eight years of starvation.
There are 100,000 empty positions in the NHS: nurses, doctors, everyone, across the board, and until those vacancies are filled...
So Brexit is really not helpful.
It's a disaster. And that's why it was so triply horrible, using the NHS as a weapon to promote Brexit - go around any hospital, you will struggle to find anyone who thinks it's in any way a good idea.
It's a microcosm of England, any time you go into a hospital, you will see people from all over the world pulling together. People are already leaving, and not just people directly impacted by Brexit, it's people who just think 'this environment's become a bit unwelcoming.' It's very upsetting.
That's the good thing about this book doing so well - it's presumably been read by so many other people too.
People pass on books, it's been borrowed loads in libraries and things - amazing. You write a book to be read.
Especially having spent so much time on it. Well, actually you didn't...
Ha ha! Other people spent loads of time sorting it out.
Part 4: The show of the book of the show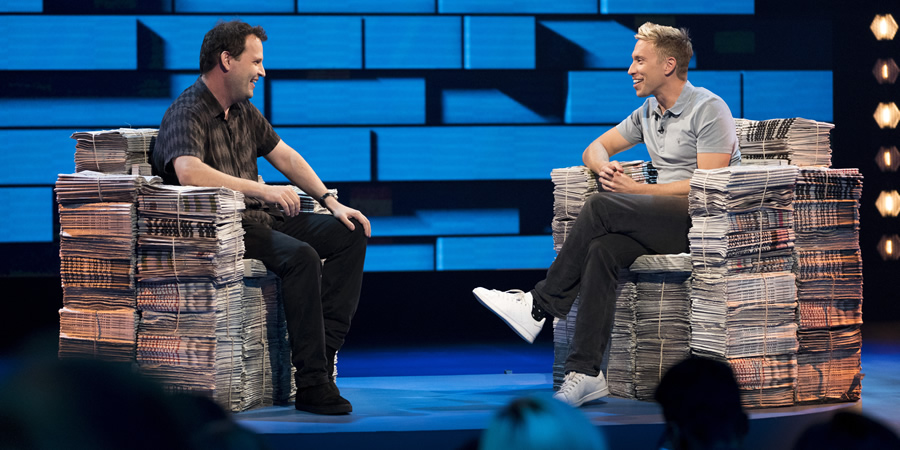 The show came first, then the book, and now the show again - is it the same as before?
It's got better, it's evolved as time has passed. I keep changing what I read out just to stop myself going mad, and I read bits that aren't in the book, because I'm now aware that a lot of my audience will have read it.
It's the first time I've looked forward to going on stage, and I'm now playing quite big rooms, compared to the cabaret bar of The Pleasance where it started. The show changes in a different room.
You hear people like Russell Howard talk about needing to wait for the laugh to get around the room in those places.
Yeah, I did his show a while ago [The Russell Howard Hour], had a chat about the NHS. He's moved on from being quite laddy, and mobilised that to talk about big issues - I think he's a force for good. There are huge numbers watching his Sky show.
As I'm sure you're painfully aware, there's been this pivot among comedians over the last few years that [live shows] all have to come back to this sad thing, at the end.
I've always assumed that it evolved out of the need to change things up at 45, 50 minutes, when people are tired of laughing.
I don't know why they force bad comedians to do an hour! No, I do 70, 75 mins but it's broken up with music.
You're like a one-man variety act...
Yeah, I do my juggling bit. I don't really need to do live work now, but I've found a way of going back to performing... you can read the book, but I think it's impossible to hear me talk about that stuff, telling you eye-to-eye what it's like [and not be affected]. I do book signings, and hear from people that it's changed the way they look at things. It's amazing - as long as there's a market for it, I need to keep doing that.
It's true - I saw my GP recently and I was in and out of there so quickly after reading the book, I didn't want to waste a second of her time.
That's the amazing thing. If no-one had said 'is this a book?' I'd have finished my run in Edinburgh, then I had a year of scripts planned. It was only luck that means it's gone to a million and counting, and then the TV show. And if that doesn't reach over a million, it's a very bad one.
Part 5: Playing doctors and nurses
I'd be interested to know if many politicians have read the book.
I think it should be a set text for them, and for people going into medical school, so they go in with their eyes wide open. People will still go into medicine, but you don't want anyone going into it who doesn't know what it entails.
If you want to be a train driver, they'll make you speak to a psychologist to make sure you can cope if anyone jumps in front of a train. If you want to go on Love Island they'll make you see a psychologist! But if you want to be a doctor, it's not part of what they're looking for, because the profession is slightly dishonest.
If I've put anyone off being a doctor by writing that book - good. Because they weren't going into it with their eyes open. You can't when you're 18. Medicine should be a postgraduate degree, I think.
There's an old-fashioned idea doctors are part of the elite, which is demonised, even though the real elite have become weirdly populist now: Farage, Rees-Mogg...
Boris Johnson used the term 'deep state' the other week: that made me shudder. You're the deep state! It's you!
He is a deep state.
An absolute fucking state.
You'd sometimes hear about doctors doing crazy hours, but I suppose we all thought they were one-off occasions. So the book really blows away that 'privileged' idea.
When you're in hospital, or afterwards, you're not thinking about whether this doctor has a life. You're thinking about other stuff. Maybe there are some doctors who went into it for the money - half a dozen plastic surgeons - but there are certainly no junior doctors who did.
Your footnotes are very informative. I didn't realise that most doctors are junior doctors, until they're consultants...
Yeah, people think of [junior doctors as] boozy medical students. It sounds like they're still at medical school.
Have you had any comeback from people who thought they were in it?
Yes! I had an email, 'I was in your book' in the header - oh shit! But luckily it was fine, it was the story of a hungover medical student faceplanting into an open abdomen.
Even if you were one of the patients involved, you can't look at this thinking it's a cash-in.
Hopefully not. I wasn't the best doctor in the world, I wasn't the nicest person in the world, but yep, I revisited these diaries for a reason, with a view to getting a message out.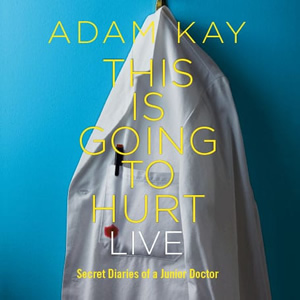 You could have just made it funny.
Absolutely. As it happens, the book and the show are a confidence trick, they get you in by saying 'this is funny', it looks a friendly book, and it's mostly a funny book and show. If it was a polemic, not as many people would have read it, or stayed until the end.
The funny stuff is amazing, but the bits that really stick with you are the hours you did, the human dramas...
Funny is all very throwaway, you enjoy it in the moment then you've no real memory for it. The stuff that's going to lodge in your head is when you feel for someone. That's why you're much more likely to go straight to the next episode of a drama, rather than a comedy, because you're invested in the people.
I think we all assume that doctors have some freaky way of blocking out the heavy stuff, so it's amazing to hear about the heartbreak of it...
You're allowed to cry, you're allowed to be human - I didn't tell my parents about why I'd left medicine. They didn't know until the book came out. I didn't even send them a free copy, they had to buy it, because even sending them it was slightly too close to opening up about it.
You've done comedy in more different ways than anyone I can think of: storytelling, music, a book, comedy-drama, script-doctoring...
But it's all telling a story, in a funny way. It's all got a beginning, middle and end. Who knows what other roles I'll play in the world, but it's definitely a world I like.