How did you get into comedy?
Ever since I was a child I had wanted to be an actor, starting out at youth theatres and eventually going to the Guildford School of Acting once I left high school. People always told me that I was funny and should do stand-up comedy, and I always found myself playing the comedy roles but was convinced I wanted to be a serious actor rather than a comedian. It clearly wasn't going to work out: I remember being in a casting for Crimewatch auditioning for the part of a mugger and my partner in the scene was so far from terrified that she couldn't stop giggling throughout. Needless to say I did not get that part.
Having spent 10 years going from acting job to acting job (I'd not done too badly to be fair) I eventually fell out of love with it a little bit so started thinking about stand-up comedy as a new option. In 2011 I did a course at The Comedy School in Camden, London, which was the catalyst I needed to start using some of the material I had been generating over the past few years. My first gig was their end of course showcase, on 26th March 2011 and I fell in love with performing live, original stand-up comedy. After that I started gigging on the circuit, and progressed quite quickly to paid work, some TV studio work, as well as writing and corporate work.
Your show this year has a Peppa Pig theme to it. Can you tell us more?
My show this year does have a Peppa Pig theme to it and I can tell you more, thank you so much for asking!
One of the last acting jobs I did before my "retirement" was in the stage production of Peppa Pig where I played Daddy Pig. It was an amazing experience, lasting about 15 months, which is approximately 14 months and 29 days longer than most of my previous acting jobs.
Although there are a lot of people who take issue with some of the social messages in Peppa Pig, especially towards Daddy Pig who can sometimes come across as a bit of a buffoon, I was always very fond of my former alter ego. So when my partner and I learnt that we were expecting a child it was only natural that Daddy Pig should make a welcome return to my life.
At first the show was really just looking at some of the similarities between Daddy Pig and me as fathers, but it gradually developed into something far more important, which is a story about how parents, and especially dads, raise sons in a post-#MeToo era. It talks especially about teaching them essential qualities such as diversity, equality, feminism and something that even Prince Harry has recently got on board with, the idea that society's unconscious bias towards gender stereotypes teaches our children an unhealthy life lesson.
But please don't worry, it is funny also. In fact the Lancashire Post recently reviewed it saying I "build a fantastic rapport with the audience, reciprocated with well deserved laugh after laugh".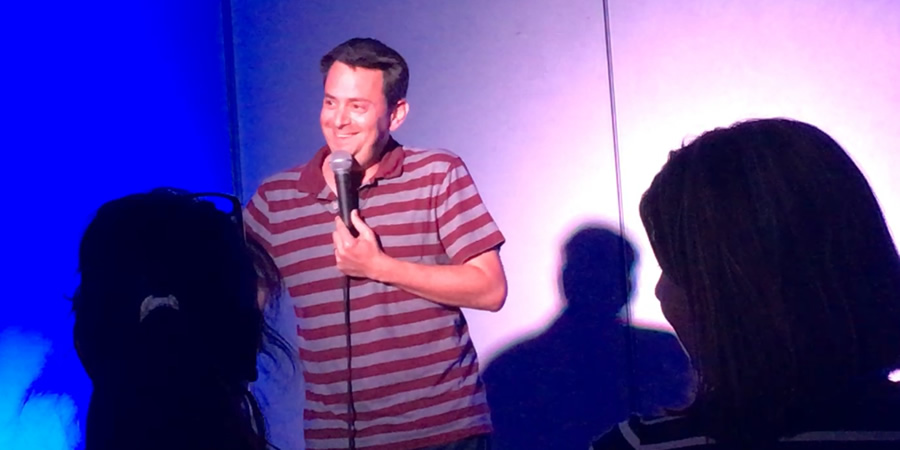 It's not safe for kids to come to the show though?
Noooo! This is something I address quite early on during the show as when I did a work in progress of the show last year (which FringeReview called a "hidden gem of the Fringe") it was clear that families may well think this was a show for them. Don't get me wrong, it's not a "blue" show with lots of gratuitous swearing and adult content, but there are mature themes, so in reality I would say the show is probably most suitable for 14+.
That said, my venue in Edinburgh, Banshee Labyrinth, only has an 18+ licence so to be honest I don't think I'll have a problem this year turning away children.
What do your family think about you performing this?
On the one hand this is my job and they understand it's what I do, but on the other hand how many other people in the world spend the majority of their jobs moaning, dissecting every part of their personal life, including making jokes at your nearest and dearest's expense?
For me doing Edinburgh is very different from doing a club set where you are telling 20 minutes of jokes at venues such as Top Secret Comedy, The Comedy Store, The Stand, Backyard, Frog and Bucket and so on. I think if I'm going to ask an audience to give up an hour of their time then of course I need to make them laugh, but I also feel the show has to say something deeper and truthful about me. Who's the Daddy Pig? is an incredibly frank and honest exploration of how much I struggled to connect with the idea of being a dad, and the support I was finally able to receive once I knew it was okay as a man to ask for help.
On the face of it that may seem very difficult for the family to hear, but if anything I believe this entire process has made us stronger as a unit. It's also highlighted to many of my friends and family who have seen some previews that for a significant period of time, life was a struggle.
What are you looking forward to most and least in regards to the festival?
I can answer the "what am I looking forward to least" part immediately because being away from my family for the whole of August is going to be really tough. They will come and visit, which will be lovely, but whilst they're here I will still be doing my show every day, plus Jew-O-Rama, the Jewish compilation show I run with Aaron Levene at Whistlebinkies at 5:15pm, and various other gigs. It's effectively like taking your family to the office where you're delighted to spend time with them, but also focusing very much on work so don't have that much time to actually spend with them.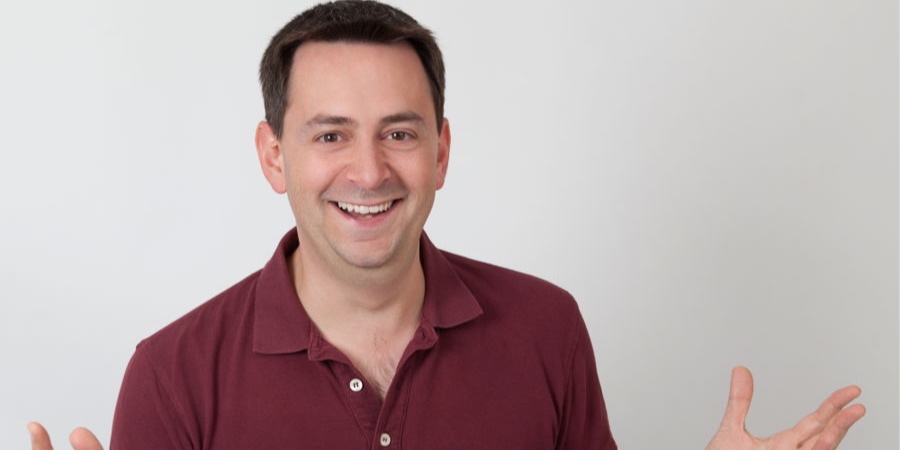 I think the thing I'm most looking forward to is doing the show and presenting myself to the industry in a way I don't feel I've been seen yet. I've been doing comedy for 8 years now, 3 years as a full-time professional, and have been ticking along very nicely, making a decent living, doing my thing. I don't have a comedy agent, I don't have a big PR team backing me and it's very possible that I could reach the end of August as anonymous as I am now.
However, I have worked harder and am more proud of this show than anything else I have created (artistically, that's not a dig at my children). And although I haven't decided to bankrupt my family by going in one of the big paid venues, I am optimistic that if people take a chance on the Free Fringe, and more specifically my show on the Free Fringe, then the hour of comedy they will see is as good, if not better than much of what's programmed on the paid Fringe.
Not only is Who's the Daddy Pig? funny, but it is also a very honest piece of social commentary that has real heart.
You recently performed the show at the Morecambe Fringe, where you got a five star review. That's got to be a nice morale boost to arrive in Edinburgh with?
It really is. Because of what I said before there is every chance that I will have no industry presence at my show. That's agents, promoters, bookers, etc, but also reviewers. Even some of the big PR companies are telling their clients that despite their hefty fees they can't guarantee reviewers will come to see their shows.
Therefore it's great on day one to be able to tell audiences that the show has already received the highest rating, and that was when it was still developing into the show it will be once I get to Edinburgh.
Obviously, I hope reviewers will come and I would like to think that won't be my last good review, potentially not even my last five star review. However, the reviews I'm most interested in getting are from the audiences themselves. Either through social media interaction or by writing their own audience reviews here or on the edfringe.com website.