Langston Kerman interview
Langston Kerman has brought his debut show, Loose Cannon, to the Edinburgh Fringe. The LA-based comic, and star of Sky Atlantic's Insecure, talks to us about genitals, and his American family's love of kilts.
It's your first time at the Edinburgh Fringe - what are you most looking forward to?
For the past year and a half, my 90-year-old grandmother has been trying to gift me my grandfather's old kilts because she thinks they might help with my "comedy skits". To be honest, I'm not sure what could've given her that impression (I mostly talk about my nipples and police brutality), or why my grandfather even owns kilts in the first place (he's a Jew from Ohio)...
Still, I'm excited to finally experience the place that has inspired so many of my family's incomprehensible choices. Also, I just found out that Scotch Eggs aren't actually Scottish, so I'm really looking forward to discovering what else I don't know about this beautiful, silly-talking place.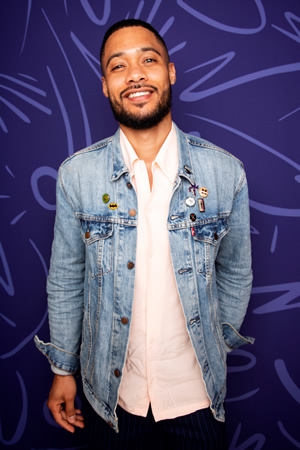 You play Jared in the hit HBO show Insecure; it broadcasts here on Sky Atlantic, but for the uninitiated, tell us more about your character in that? Are you like him in real life?
Insecure is a wonderful television programme that tells the often overlooked stories of black women and their journeys through dating, friendships and self-discovery. Jared, like many of the men on that show, is mostly there to be objectified and then pushed aside by much more important female voices. So, although I don't see many similarities between myself and Jared, it has been an absolute honour to break ground as one of the first boy thots (urban dictionary it!) on premium television. Also, please keep watching the show. I make tens of dollars in residuals every year.
One of the cruxes of your show is about a very scary time when you found yourself unwittingly sharing a living space with a convicted sex offender. If there's one thing an Edinburgh Fringe show does more than any other, is allow comics to mine their worst personal experiences for comedy material - how do you find that process?
Speaking specifically of the horrors of sex offenders in my past, I think the hardest part has been shaping this material into something funny. Throughout the writing process, it's been super easy to recall the stories of trauma and police grade pepper spray, it's been much harder having to tell these stories in a way that ensures everyone is having a good time.
I'm constantly forced to ask myself "What am I expecting people to laugh at? And why is that supposed to be funny?" In that sense, it has been a really exciting challenge to explore new avenues of humour and to push myself beyond my own comfort zones. Also, I get to talk about genitals a lot more in this hour, which is always a great time.
You claim your recent experiences have made you a 'better lover in the vagina' - how so?
I'm not sure I have any definitive proof of me being a better lover in anyone's vagina. It was mostly just a very silly thing to write down. Still, until my very disappointing sex tape is eventually made public, I'm going to keep repeating it as often as possible. If I've learned anything from recent American politics, you can just say stuff and people sort of have to go with it, even though none of us are really sure why.
Finally, describe your show in five words.
Warning: not for human consumption.