Short & Curly
Short & Curly: Young at Start
This is a 2018 show that has now finished.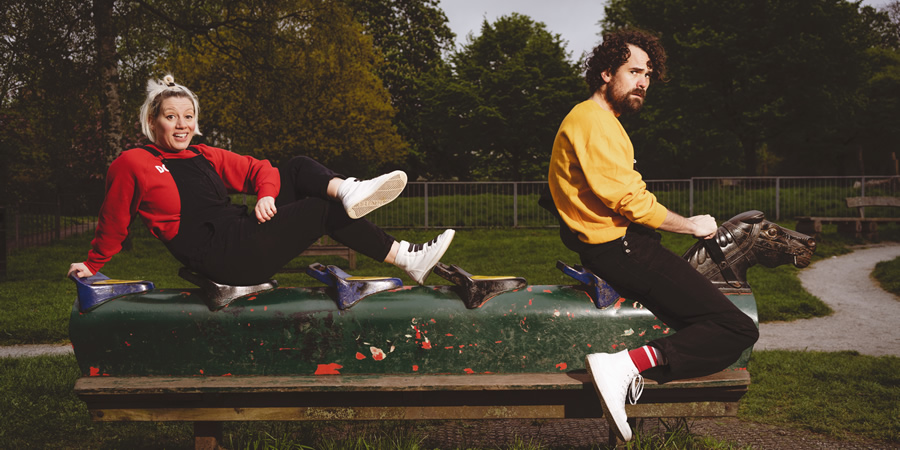 Mon
Tue
Wed
Thu
Fri
Sat
Sun
30
31
1
2
3
4
5
6
7
8
9
10
11
12
13
14
15
16
17
18
19
20
21
22
23
24
25
26
27
28
29
30
31
Curly is convinced that appearing youthful is the answer to success and he will do whatever is necessary to get 'youth'. Cut a long story short. Short ruins it. If you thought pink custard was good you'll crap your pants over this! 'It's completely hilarious and amazing' **** (BroadwayBaby.com). 'An exhilarating experience' **** (ShortCom.co.uk). 'Quick changes and even quicker wit' **** (ThreeWeeks). 'Teases the crazy side we are encouraged to mask' ***** (Define Arts).
Share this show
Reviews
Press coverage
This show's artwork was involved in The Comedy Poster Awards 2018
---
Youth: we've all had it, some of us have still got it. Curly barely remembers what IT is! Convinced that fame and fortune is only reserved for the young, Curly is in full panic mode to get his youth back. Meanwhile, his shorter half, Short, knows he's got it all wrong. She wants to teach him to learn to appreciate the present.
Join Short & Curly for a slapdash mind-bending hour of prop laden, silly and vivacious sketch comedy that, no matter what your age, will make you feel young at heart.
Paul F Taylor (Curly) and Rebecca Shorrocks (Short) and have been performing together since 2010. Paul is an award winning stand-up comedian, Rebecca is an award-winning actress and both have won awards for their short films with long-time collaborator and BAFTA nominee, Ben Mallaby. Their short films have featured in multiple prestigious festivals such as the European Independent Film Festival and BFI London Film Festival as well as screening at the BFI IMAX. They also happen to be a married couple. Joining their comedic marriage for the Fringe as their director is Edinburgh comedy award nominee and guarantor of chaos; Marek Larwood (We Are Klang).
Video: Curly And The Last Crusade
Video: Short Is Ageing UP!
Video: Wendy Finding Neverland
Short Film: Battlecock!
---
Credits
Tweets by ShortCurlycom