Rik Wolters
Rik Wolters - Heroic Failure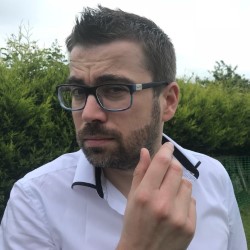 Show details
The listing for this show in the printed programme may be wrong. The following details are more likely to be correct, but we suggest you independently check.
Stand-up show starring Rik Wolters that was performed at The Clootie Dumpling at 6:30pm for 1 hour, on the following days in August 2018.
Mon
Tue
Wed
Thu
Fri
Sat
Sun
1
2
3
4
5
6
7
8
9
10
11
12
13
14
15
16
17
18
19
20
21
22
23
24
25
26
27
28
29
30
31
Venue details
The Clootie Dumpling (Venue 545)
Tickets
This show is free to watch (there may be a donations bucket at the end). There are no tickets, so for popular shows you should arrive early to ensure entry.
Rik is a bit of an oddball. Socially awkward, obsessive compulsive and sarcastic to the core, he has made his fair share of enemies over the years. In his Fringe debut, Rik recalls some of the stories from his somewhat chequered past and invites the audience to join him in laughing in the face of failure!
Share this page