Sarah Slack has devised a game for those who have seen shows at this year's Edinburgh Fringe...
This was my eighth year attending the Fringe on my eternal quest for satire, sketch, and jokes about dicks. What does nearly a decade of going to the Fringe and seeing up to 10 shows a day do to you? Well, it certainly helps highlight some trends and festival staples; from lame flyering attempts on the Royal Mile, to hearing the phrase "it cost you nothing to get in, but it'll cost you to get out!" uttered by a performer holding a bucket from Wilkos.
Now we're in the final week of the festival I thought I'd put together this handy British Comedy Guide bingo card so you can keep track of how many festival clichés you've seen.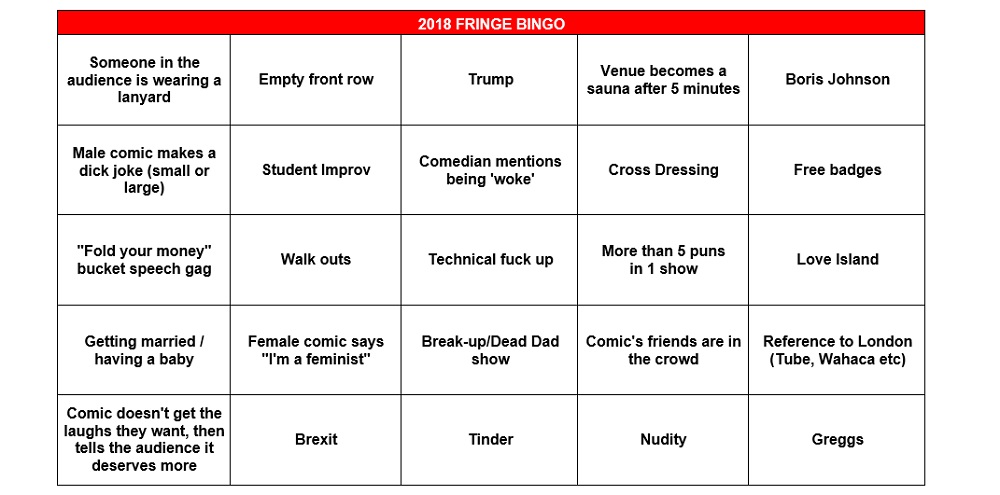 If you manage to score House, or a line, or whatever it is you score at bingo... Feel free to tweet @BritishComedy and let us know of your amazing accomplishment. (If you play as a group, we'd also love to know if you give out any prizes - our suggestions include a bottle of Perrier, a Tatti Dog from The Piemaker shop, or a meal at Mosque Kitchen. You're welcome).