BCG tracked down up-and-coming stand-up Andrew White to get his take on the Fringe...
What's the one lifesaver you're glad you packed?
A portable charger for my phone has saved me more than once already. Although it's more of a lifesaver for a lifesaver, as my phone is so important to surviving the Fringe. Emails, daily schedule, the Fringe app to find shows, and the imperfect Lothian buses app (the times are never right on it, but it at least shows you the vague general direction a bus might go).
Have you noticed anything different about the Fringe this year?
Less stand-out PR stunts so far. Last year a French theatre company drove around in a van with a megaphone, getting on everyone's nerves. This year, it's just the usual throng of student productions taking up too much space on the Mile. They hold great wide banners right across the road, blocking your path, or lie down in some stupid 'totally original' physical theatre display. Otherwise there's market stalls on the Royal Mile; the street performers seem more spread out, more shows seem to be selling out quite early on and strangely, there seems to be more Spanish people round. Genuinely.
Where's the place you go to escape the madness!?
I'd escape into a show actually. I love to be in a performance, and a particularly good one can make you forget the festival is still going on outside. I have a day off for my Mum's birthday and we're going to do tourist stuff like the castle, and afternoon tea, plus she wants to see some shows as well. So in many ways THERE IS NO TRUE ESCAPE...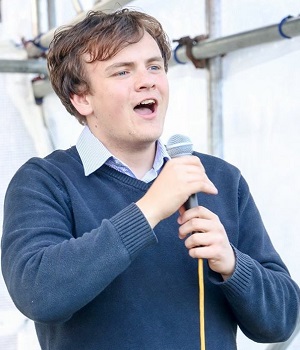 Where do you like to relax after a show?
I might walk up Arthur's Seat, but it'd have to be very early or late, because it'd just be too busy to relax during the day.
Rather than catch the bus, I sometimes just walk to the city centre - I plug in a podcast and enjoy the casual stroll. Plus, it's far enough out that I'll have a good half hour before I even see any Fringe posters! So, in many ways, to escape you have to walk into the thing you're escaping from... Oooooh, how very poetic.
What shows have you seen that really stand out?
John Luke-Roberts has got another great show this year, it's a tribute to absurdism and is a genius display of the silly and nonsensical. I don't think anyone could imitate a Luke-Roberts show.
Away from stand-up, Shitfaced Showtime: Oliver With a Twist was a proper feel-good, forget about your problems, fun hour. It's the musical Oliver! but one of the cast members is considerably intoxicated. It's just priceless to watch them stumble through complex dances; lose composure in serious scenes; go off script, and force the other actors to improvise around them.
What's been the highlight of your Fringe so far?
Meeting lots of awesome people. Dharmander Singh was in the slot before me at last year's festival, and we really got along, so it's been lovely to see him again this year.
As for new friends, all the venue staff are great and Pauline Quirke who runs the company has been an ever-present chatty and smiley figure.
The Fringe can be a great leveller, and I find it cool just to talk to legendary comedians as if I was talking to a mate. Everyone's in the same boat, and many have been in the boat for decades, so there's a great sense of community.
But if I had to pick one event, I'd say watching an Irish comedian marry a Spanish man named Sergio to an Icelandic woman named Bridget live on stage at 11am. It's worth adding that none of the three people involved had met each other before the show started...
What can people expect from your show?
Some funny stand-up but they also expect something a bit different (experimental mime!).
I also like to let audiences drag me off course - the most fun often comes from having a conversation with the audience and playing off them. It'll be fun!
Sum up your Fringe experience in a word...
Unforgettable.