Dirty White Boys
Dirty White Boys: Manners
This is a 2018 show that has now finished.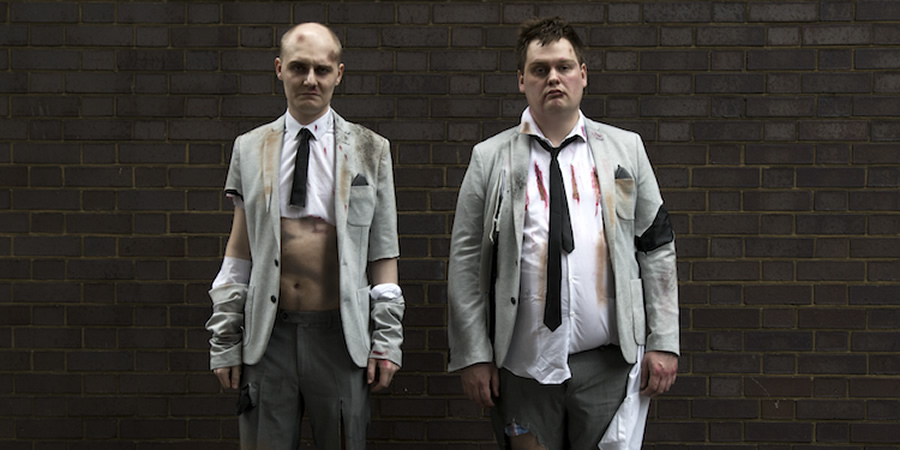 Mon
Tue
Wed
Thu
Fri
Sat
Sun
30
31
1
2
3
4
5
6
7
8
9
10
11
12
13
14
15
16
17
18
19
20
21
22
23
24
25
26
27
28
29
30
31
The award-winning sketch duo is back to bring their trademark high-energy nonsense to a variety of news topics. Expect shouting, quizzes, and maybe even a musical finale. But mind your manners. Winners of Best New Act at London Sketch Fest 2016. 'A slick operation with punchlines to match... Pitch perfect!' **** (MumbleComedy.net). 'Exceptional sketches... highly talented' **** (FringeBiscuit.co.uk). 'This comedy duo have oodles of talent up the yin-yang... clever, witty, and brilliantly acted' **** (LondonTheatre1.com). 'Wrapped with comic cleverness' **** (Young-Perspective.net). 'Spectacularly and compellingly funny' (List).
Share this show
Reviews
Press coverage
This show's artwork was involved in The Comedy Poster Awards 2018
---
Imaginative, imbalanced and imbecilic sketch duo Dirty White Boys are proud to be back in Edinburgh for the 3rd year running with the premiere of their new show: another rapid-fire hour of vaudevillian nonsense (imagine Morecambe & Wise meets David Fincher). Expect quizzes, Shakespeare, sinister midnight phone calls, and (if you're lucky) even a bit of dancing. Come one, come all, but remember your Manners.
Video
Dirty White Boys
Dirty White Boys formed in late 2013, consisting of Rochdale-born (and current Birmingham resident) Jack Robertson, and Bedford-born (now London local) Chazz Redhead. They've toured all across the UK (including Brighton, Birmingham, Manchester, Wolverhampton, and Bedford) and have even made a guest appearance on the stage of the Novello Theatre.
Winners - Best New Act (London Sketch Fest 2016)
"A slick operation with punchlines to match... Pitch perfect!" -
Mumble Comedy
"Exceptional sketches... highly talented" -
FringeBiscuit
"Clever, witty, and brilliantly acted" -
LondonTheatre1
"Wrapped with comic cleverness" -
Young Perspective
"Spectacularly and compellingly funny" - The List
---
Credits
Tweets by dwbcomedy