Sean Patton
Sean Patton: Number One
Stand-up
8:15pm (1 hour)
2-13, 15-27 Aug 2017
7.50 - 10
This is a 2017 show that has now finished.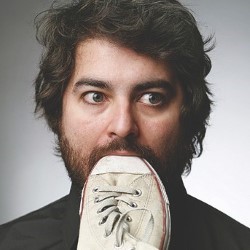 Mon
Tue
Wed
Thu
Fri
Sat
Sun
1
2
3
4
5
6
7
8
9
10
11
12
13
14
15
16
17
18
19
20
21
22
23
24
25
26
27
28
29
30
31
Venue details
A comedian from the drunken voodoo pirate city of New Orleans, Louisiana. There are many ways to describe Sean onstage, but the New York Times did it best when they said 'I've seen him perform more than a dozen sets, and he's killed every time. He's dynamite, even with ordinary material, turning standard Brooklyn-hipster jokes into a stomping, roaring tour de force, and elevating a bit about sex-performance anxiety into high-stakes comedy.' Number One is Sean's story of heartbreak, natural disasters, and celebrating the one thing that unites us all: human flaw.
You may not have heard of this comedian from New Orleans before, but you should catch him whilst he's over here at the Fringe, as he has a great hour of tales to tell. Find out why balls have the power to shape lives and discover how being OCD can help save us from climate change.
Share this page
Reviews
Twitter reviews
Press coverage