Comedian Vikki Stone is best-known by many for her beautifully smutty Brian Cox Song. A classically trained musician, the comic has spent the last year writing and composing her own full show: Concerto For Comedian And Orchestra. Currently hosting a weekly BBC Proms podcast and ahead of a one-off performance at the Edinburgh Fringe, we sat down with Vikki to find out all about the project, the Proms, and making classical music more accessible.
A comedy concerto...
It's a ridiculous idea! It's something I came up with about two years ago, Concerto For Comedian And Orchestra. It was just a title; I didn't know what on Earth it was going to be, I just had this idea that I wanted to write a piece with an orchestra and a comic, and for the music to somehow to inform or be the jokes.
The first thing I did is go on a conducting course. I don't really know why, I just thought it would be a good thing to do! I think perhaps I thought I could conduct it, but I quickly realised you can't perform comedy with your back to the audience... I did meet the guy who is now conducting it, Ben Glassberg, on that course though. He was at the Royal Academy of Music studying a masters in conducting - very useful!
How do the music and the comedy work together?
Well, it's a script, it's a story. It's essentially an Edinburgh show, 50 minutes - in classical music land, if you're a soloist performing a concerto you get an encore - so 50 minutes plus encore. I think in many ways the text would work on its own: it's a story, essentially a bit of stand-up. The music will sometimes go along with the rhythm, sometimes it works like a film score, underscoring the comedy.
It's in four movements, and the first follows a couple's relationship, it's called 'The Arrival of the Dishwasher'. Last year I was here doing the Proms and I watched 45 concerts whilst writing this - very handy! Forty-five concerts whilst writing an orchestral piece, which allowed me to just listen, and to observe audience behaviours. A lot of that is in the mechanics of the piece. Especially here at the Proms, there are some very odd things that go on. The audience feel like they own the behaviour that goes on in a concert hall, like you mustn't clap between movements. When a movement ends, the entire audience will cough rather than clapping. Just clap! It's the weirdest thing. There's some very odd etiquette.
They also hold back any late-comers till a break in between the movements. The first will often be quite loud, and the second quite soft. So, you've actually got people shuffling in at the moment where it's most quiet! Maybe this is spoilers, but inspired by that I've written a mini movement between my first and second movements, called 'The March of the Latecomers'. If you're late, you've got music and you have to march - that's the only way you'll get in!
So it's kind of stand-up meets observations of the behaviour of a concert hall, kind of taking apart and hopefully making more accessible the world of orchestras.
A lot of people are still very intimidated by the world of classical music.
Well I'm hoping that this, presented in its Edinburgh form, only an hour, and not being in the same environment, is really accessible. But I would say to anyone who's never been to a concert or is not quite sure where to start, that classical music is much more affordable than you think.
Classical music concerts almost always have extremely affordable tickets. The Proms, for instance, the cheapest tickets are £6. People think it's not for them or they don't want to take a punt on it... I like the concerts where people clap between movements because it means there are people there for the first time. The more people who come for the first time, you behave how you want to behave: don't talk obviously, but if you want to applaud, I think you should!
I don't think people should feel intimidated about watching any art form. If you want to watch ballet, go watch ballet. If you want to go to the opera, even if you have no idea what's going on!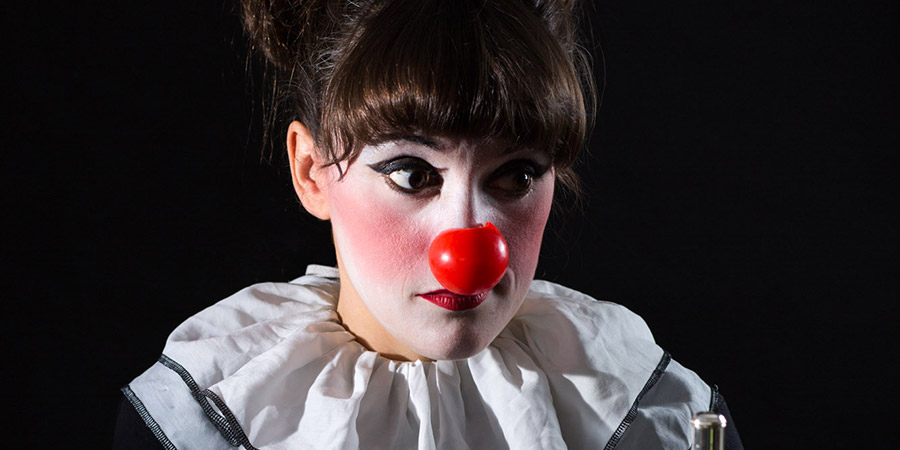 Where did you start in writing this piece? Did one - comedy or music - come before the other?
I wrote them simultaneously. There was a point where, in order to hit various deadlines, I was having to write 3 minutes a day. Three minutes of music is extremely hard work! But then maybe an entire week of work you realise is rubbish and has to just go in the bin because it's not right.
I work with someone else, Simon Nathan, whose job it is to take what I've written and turn it into something that an orchestra can actually physically play, that works and turns in the right places. For example, like most composers I write in software where you can just turn up any instrument or orchestra section, but he'll turn around and remind me that, actually, this flute will never be heard over an entire string section so something has to be taken out. And he'll suggest to change another bit between instruments, and sometimes that's great but at other times I just have to be very insistent and say 'no, I don't want it to sound like that'.
With a traditional piece of classical music, any orchestra can be given and play it. Is that the same here? Will the comedy transfer to another performer?
Yep! It's just a story: there are points in this, like a cadenza in classical music, where another performer can put their own bits into it.
The trouble is, Simon and I don't actually know at the moment how to present the actual physical sheet music. There are so many points, music cues where you need to deliver certain parts of the text in time... Once the Edinburgh performance is over, we're going to sit down and figure out how it can actually be written down so that someone else can perform it. But in theory it should work! We're talking to publishers at the moment.
It sounds like a very complex, time-consuming process!
I've been lucky to secure funding from Arts Council, and from the Performing Rights Society's 'Women Make Music' scheme, which has also involved breaking it all down into different stages. So we had a premiere of the first version at the Glastonbury Festival last year, then Edinburgh is the next stage now, and after that we'll try to get a big orchestra to pick it up.
After Edinburgh, I won't stage it again myself. I have to get someone else to take it on and programme it. Every time I've performed it it's changed, but after this Fringe outing that'll be the final version.
Major orchestras book themselves two years ahead: it might not be on again instantly, but it's not like some Fringe shows where that's it, it's then dead. I'm really hoping this will be published and picked up and performed for years to come.
You don't think we might see a Vikki Stone Comedy Prom in 2018, 2019...?
Um, yeah, well the guy who directs the Proms, I've been hassling him a lot! I'm not sure just hassling gets you a Prom though - we'll have to wait and see.
I played recently a piece called The Typewriter, which is a very silly, jolly piece that orchestras play quite a lot. Another composer I'm friends with, Gabriel Prokofiev, the grandson of Sergei Prokofiev, has written a piece called Concerto For Turntables and Orchestra. That's quite a niche piece but gets performed quite a lot.
I think orchestras want to put on something that's a bit different within a season, within a programme, so I've written this with the intention of being one of those. Being one of those quirky pieces. I've also written it so that the third movement stands alone and you can take it out of the hour-long concerto and perform it by itself. A seven-minute piece. I don't want to spoilt it, but with some audience participation!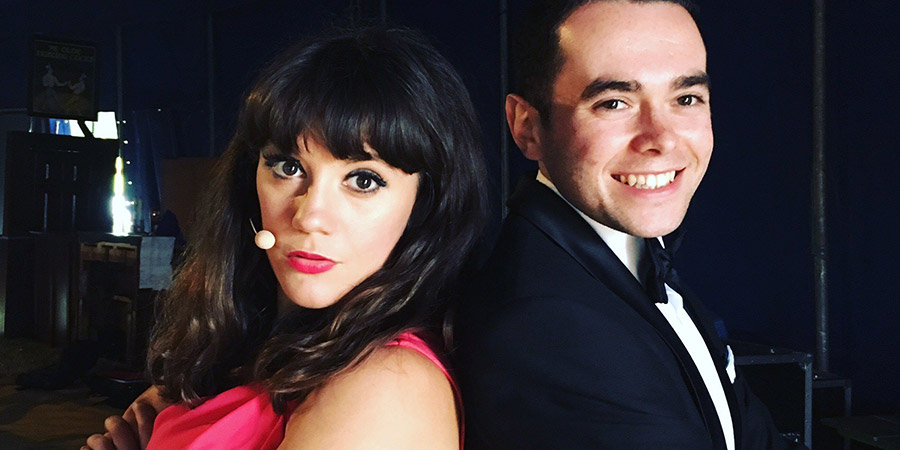 How large an orchestra does your concerto require?
In Edinburgh I'm performing with the Chamber Orchestra of the National Youth Orchestra of Scotland Camerata, and it's 27 pieces.
I've actually written two versions: the other, there's roughly 50-odd but you could scale it up to 64, maybe that kind of size, which would be a symphony or philharmonic orchestra. That's things like double woodwind, quadruple brass - big big big. Full on. Big sound. I wanted it to appeal to that size of orchestra.
What we're performing in Edinburgh is the reduction version: single woodwind, single brass, two percussion rather than four, seven violins, four violas, two cellos and a bass. It's down to pretty much the lowest terms an orchestra can be and still be an orchestra! Still small enough to fit on an Edinburgh stage though - and of course just easier to manage. I think it's good to have the options. I wouldn't want it to be either one or the other. By having both versions it's more performable.
What happens a lot actually, is that a new piece - for an orchestra particularly - will be performed on its premiere; then never again. The statistics are that, on the premiere, that's it. Quite bleak, and a strange phenomenon. So I'm already doing well apparently, that this will be my fifth performance. There are lots of interesting facts like that. For instance, female composers rarely have works performed by an orchestra that're over 20 minutes in length. They don't get the work commissioned in the first place, and then it's often never heard again after the premiere.
Coming from comedy, I wouldn't dream of writing a whole new one hour show and busting it once. Very strange. In fact, the first classical commission I ever had was a choral piece for the National Youth Choir, that was performed at the Royal Albert Hall. That secured funding, and part of the stipulation was that the choir had to perform it more than once, and in different locations, so it didn't become just another statistic.
I'm lucky that I've had that performed by other choirs since. I think my work is quite accessible, like film musical. But a lot of classical music, especially new classical pieces, can be quite a hard listen. Lots of harmonies that are tricky, odd time signatures, odd instrumentation - things that you don't digest unless you have a very sophisticated taste. Certainly not that you can just listen in a relaxing, fun way.
I think I've written some of those catchy bits, the tunes that you sing and that you keep. Which reminds me of one of the first and most unexpected joys of this process. When I first had an orchestra in a room to rehearse it, and they had the music in front of them - musicians just accept the music in front of them; my comic's brain was worried "oh they'll think it's terrible" but they just accept it and start playing it. But then in the break, hearing them practice the difficult bits, all at the same time. I can hear all different bits of my work happening in a strange cacophony at once - and I sort of knew where they were all from on the piece - as they try to work out the hard bits. And it's nice that there are hard bits! That was something that I hadn't even thought of, but it was amazing.
This will be your fifth show in Edinburgh?
Yeah, I've done four hours in the past. The last was in 2014, after which I took a bit of a break. I didn't want to get caught up in it. I think with Edinburgh, it's easy to get caught in the cycle: "must do another hour, don't know why, let's go!". I just shut myself out of that and felt I didn't want to get stuck into a kind of mould, a pattern, where you might blindly just go "yep, do the next one, have the poster made, that's the title, don't even have a show" - because you must book your Fringe brochure entry in February. Certainly in the last two Fringes I did, I was then touring that show until the January, after which you've got to have details for the next show. Often, you've not finished the last one before you're filling in the forms for the next.
I felt, "I don't know what this is about" - just because I'd not had time to think of what it was about.
And that's why lots of comics end up with non-descript titles, or puns on their own name.
Yes! One year, the only one I thought was vaguely amusing, I was thinking of changing my name to Vikki Sock, and then calling the show The Key To Sock-cess. Just change your name because you can. Because of a pun. And awful pun.
But it is nice to be going back to the Fringe. Lovely to be just there for a couple of days though! Rehearse in Glasgow on the Friday, day off, perform on the Sunday. It's going to be really nice to share it with those 27 musicians, a conductor, and the audience.
You're otherwise busy at the moment as part of the Proms coverage?
Yes! I do a weekly podcast, and a weekly round-up of the Proms for 6Music on a Sunday morning. I have a rather strange but a lovely job: I sit with Radio 3 in a loggia box in the Royal Albert Hall, watch the Prom, and then for some I'll talk about the Prom during the interval on the live Radio 3 broadcast.
For the podcast, I hang around backstage and talk to people, and I have a segment called 'Prom Date' where I take someone along, perhaps who's never been to a prom before. I took Al Murray for the latest episode, and Richard Osman the week before that - he'd never been to a Prom before. In coming weeks I've got Imogen Heap and Sophie Ellis-Bextor with me.
It's a really nice job, I'm very lucky. I have absolute creative freedom to make something that I want to make, and to make something that's light-hearted, irreverent and silly, about something that has - I hesitate to use the phrase! - a lot of pomp and circumstance. To delve a bit deeper and show that it's a really normal environment and shouldn't feel inaccessible to people.
What I like is that the podcast annoys a lot of the die-hard prommers. I think 'good' - they have Radio 3, where every single Prom is broadcast live. They're very well served already. Every single interval of every single Prom has 20 minutes of quite highbrow interviews, which all are published online. It's all there for them already. What I'm doing is something different, so if it gets a few peoples' backs up, who think that classical music shouldn't be like this, then I think I'm doing my job.
Classical music is an establishment of sorts; not the people who work and perform in this world, but the audience feel they have great ownership, and very set rules of how you should dress. The Proms is casual, but if you go to some places, the outfits are very ... well, it excludes people from the music. You think 'it's not for me'. But it really is, and should be, more accessible than many think. And as I said, a lot more affordable than people think. The Royal Opera House, every Friday lunch time at 1 o'clock, sell off tickets for £25. People think it's £200 - and yeah it can be if you're sat in the stalls, but on a Friday afternoon if you're quick off the mark, you can get a good seat for £25. Proms start at £6. The English National Opera in central London, that starts around £10 - £15.
I want to help give people more knowledge, to help break it down into more accessible terms, give people more ways in. So they listen to concerts, so they go and attend.