The Edinburgh Fringe is well known for dark, sticky and sweaty comedy venues, but one of this year's most intriguing shows can be found in an altogether more glamourous and exciting location: a well-lit, clean and comfortable hair salon.
Comic play Foiled, from Welsh theatre company Duckspeak, can be witnessed in Ruby Rouge on Clerk Street. Although, from 7pm until 8pm, the salon actually goes under a different name: Bleach For The Stars.
Audiences sitting in the cosy venue (a word to the wise: Foiled is proving very popular but can only accommodate 27 people a night, so best to get there early to ensure a seat) witness the antics of owner Sabrina and her put upon assistant Tanisha as they attempt to give actor Richie a haircut suitable for an audition. Richie is bald, so the stylists have a rather big challenge ahead of them!
BCG attended one of the performances and was really impressed with how the group used the venue to full effect, and the passion with which performers Beth Granville (Sabrina), Stephanie Siadatan (Tanisha) and Dominic Morgan (Ritchie) commit to the piece. Whilst it's essentially a broad comedy, there are moments of poignancy too.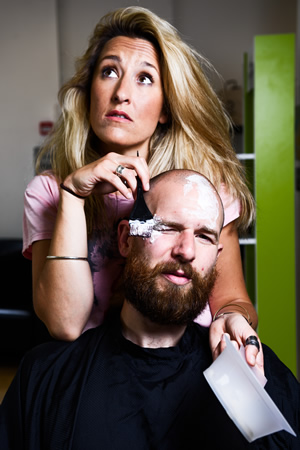 So how did creators David Charles and Beth Granville come across the idea of using a real working salon for their show? They tell BCG: "We couldn't afford the leather chairs for a stage set! That aside, hair salons are a wonderful natural theatre anyway: bright lights, mirrors everywhere, the self-conscious customer centre-stage. The styling itself is a very dramatic performance, as anyone who's left with a savage and unexpected under-cut will know!"
Foiled has been really entertaining audiences, as the video testimonials on the group's Twitter feed attest. "We had one women say she'd hurt her neck laughing! Audiences have been wonderful and it's great to put on a show that gives people such a buzz from the moment they walk through the salon doors."
Perhaps unsurprisingly, some of those sitting in the audience have been real hairdressers, curious to see how their profession is portrayed. The writers tell BCG: "Hairdressers are usually flattered and excited to see a show based on their lives - we've got six coming tonight, in fact. Our best hairdresser-response was from a group who came to our London previews and said, 'Oh my god - that's us!'."
The unique setting is clearly catching the eye of those outside in the street too. During some of the more slapstick scenes, BCG witnessed quite a few people stopping in their tracks to peer through the window to see what was going on. Beth and David confirm: "We get a lot of people walking past, staring in disbelief at the antics inside. Quite a lot of curious passers-by have come back to see the show as well."
The script dictates that the characters must sometimes walk in or out of the shop, so there's also a chance that those outside the venue will unexpectedly become involved in the show. David says: "When feasible, the actors enjoy improvising around these unwitting human props, which always goes down well with those in on the joke."
With Bleach For The Stars packed out each night, there would appear to be potential for the show to be scaled up and taken to other cities. Duckspeak say: "The success we've had so far is very encouraging. The show seems to have broad appeal, which is great for when we're flyering out and about in Edinburgh. Festival-goers can be a 'seen-it-all-before-pal' kind of crowd, but not many people have seen a comedy in a hair salon before."
After the festival, they will be heading south to perform the show in a salon in London. There's also talk of then going on tour around the UK, starting in Wales. The group also have other ambitions: "We'd love to shoot a mini web series based around Bleach For The Stars."
The main characters in Foiled are certainly built in a sitcom mould so could we maybe even see Sabrina, Tanisha and Richie on television one day? "That's the dream! ... of all 3000+ shows in Edinburgh." However, BCG suggests that Foiled perhaps has a better chance than many Fringe productions of making the crossover. The creators respond to this thought: "We've been told that Foiled is very 'sitcommy' and we think that a hair salon would be a natural and affordable home for a TV comedy series. We've already had STV film a short segment in the salon for the 6 o'clock news - a tantalising taste of what's possible." A recent performance on Radio 2's Arts Show suggests the characters could be very much be at home on the radio too.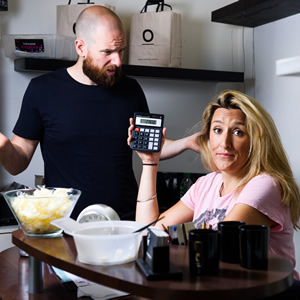 Whatever the Bleach For The Stars characters to find themselves doing after the festival, BCG is hoping they'll return to the Fringe in 2017 so we can laugh at the next chapter of their adventures. Might they return to Edinburgh next August? "Absolutely. Assuming we're not declared bankrupt, this year's show feels very much like a pilot episode of something special." They also joke: "After Foiled, we're toying with the idea of putting 'Disney-esque' spoilt despot Sabrina Edwards in charge of a car mechanics workshop - Oiled."
Well, if Duckspeak do need some money to help stage a new show in a garage, they could always try and turn Clip Advisor, the fictional salon reviewing website that Sabrina tries to win a competition via, into a real business - it sounds like a winning money-making idea to us! Or maybe not... "We actually looked at buying the website domain name, but it's £1540.18!"
Sabrina is going to need to oversee a few more haircuts yet then... luckily it looks like there's lots of people willing to come to her salon.
Foiled is at Ruby Rouge at 7pm until the 29th August (not 25th). The London shows are expected to start in late September. Keep an eye on weareduckspeak.com for updates.