Wheely Wheely
Wheely Wheely Wheely Wheely Wheely
Panel show
8pm (1 hour)
8-10, 12-17, 19-24 & 26-29 Aug 2015
Free
This is a 2015 show that has now finished.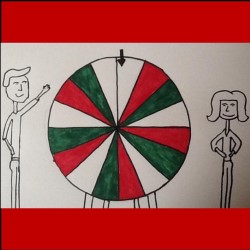 Mon
Tue
Wed
Thu
Fri
Sat
Sun
03
4
5
6
7
8
9
10
11
12
13
14
15
16
17
18
19
20
21
22
23
24
25
26
27
28
29
30
31
1
2
Venue details
Hello. You look nice today. But no time for that. This event will go ahead no matter what happens. Power outage? The wheel will spin. Sudden outbreak of witch trials? The wheel will spin. The wheel breaking? We'll come up with something. The unstoppable quiz with a wheel. (No two shows the same, due to the very nature of the universe.)
Share this show
Full press release
Wheely Wheely Wheely Wheely Wheely is the dumbest game show ever to grace a stage on God's Green Earth. There will be snorkels, pirate costumes, drawing donkeys and a glamorous assistant called Stuart.
Stephanie Laing and Paul Duncan McGarrity bring you a silly hour of silliness, with zero artistic merit, but a shockingly high volume of maltesers. This is an interactive show, so be prepared to get involved with some jousting, guess which donkey done a murder, and probably drown in the underwater round. Also, there's a big wheel with the rounds on it that Paul made, hence the name.
Stephanie ("gloriously silly, wonderfully unpretentious" Broadway Baby) and Paul ("a very tall, funny, excited child" Kate Copstick) have been performing at the Edinburgh fringe for 8 years between them. They decided to team up to write this show together because of their shared love of surreal comedy, games, shouting and maltesers.
Credits