UCL Graters
UCL Graters - 2015: A Sketch Odyssey
Sketch show
2:20pm (1 hour)
6-29 Aug 2015
4 - 7
This is a 2015 show that has now finished.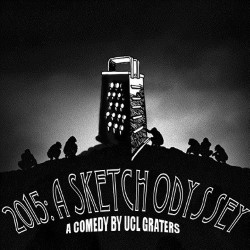 Mon
Tue
Wed
Thu
Fri
Sat
Sun
03
4
5
6
7
8
9
10
11
12
13
14
15
16
17
18
19
20
21
22
23
24
25
26
27
28
29
30
31
1
2
Venue details
Following sell-out performances in 2014, UCL Graters, University College London's award-winning comedy group, returns to the Fringe with a fresh hour of sketches. Join four of the University's brightest young comedians on a journey through time and space. Previous UCL Graters shows have been described as: ***** (Cream of the Fringe). 'Cuttingly funny' **** (ThreeWeeks). 'Extremely witty, clever and well executed' (BroadwayBaby.com). 'Witty and thoughtful' (FringeGuru.com).
Share this show
Press coverage
Full press release
Join the crew of Starship Grater as they do battle with a magical crab, a pop-culture obsessed wood nymph and a smorgasbord of outlandish characters.
The year is 2015. Three intrepid explorers set out across the stars to answer the big questions: Who are we? Why are we here? Why is the onboard computer taking a shower? As their ship begins to spin out of control, the crew realise that not everything about their mission is as it seems...
UCL Graters are University College London's premier comedy performance group. Following a sell-out 2014 run [Our Jackie, Spotlites Theatre], the team is back with a fresh hour of fast-paced sketches to dazzle and delight.
UCL Graters are the performing arm of The Cheese Grater Magazine, and award-winning satirical comedy magazine in London. The magazine has previously won 'Best Small Budget Publication' at The Guardian Student Media Awards, with Time Out London editor Gordon Thompson describing it as a 'Diamond in a sea of shit'.
---
Credits
Tweets by UCLCheeseGrater