Trine Munk
Waking Up in Trees and Trucks
Music / Stand-up
8:15pm (45 mins)
8-9, 11-16, 18-23 & 25-28 Aug 2015
Free
This is a 2015 show that has now finished.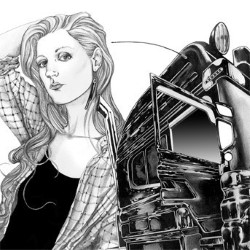 The listing for this show in the printed programme is wrong. The following details are more likely to be correct, but we suggest you independently check.
Show details
Music / stand-up starring Trine Munk performed on the following days in August 2015...
Mon
Tue
Wed
Thu
Fri
Sat
Sun
03
4
5
6
7
8
9
10
11
12
13
14
15
16
17
18
19
20
21
22
23
24
25
26
27
28
29
30
31
1
2
Venue details
I will bring a guitar, a dead pan, one violin-t voice, a Danish accent and trucks. Please bring your tree, ears, ice and body-parts. Chairs, sounds of words, songs and in-between pauses will be provided. There will, hopefully, be a merging movement between me, the performer, the elements in the show, the room's acoustics and moisture, you and the other audience members' laughs. I'm writing this myself... so I don't think I can promise you more than that it will be some kind of a comedy show. Maybe you can tell me afterwards?
Share this show
Reviews
Full press release
A slow-burning, Scandinavian surrealist brings her first, sound-centric solo show, Waking Up In Trees and Trucks to The Edinburgh Festival Fringe.
Nordic singer-songwriter, Trine Munk, performs in a fragile field between uncanny folk music and honest stand-up.
Her craft is a postmodern coffeehouse fusion of odd music and unsettling humour filtered through the irrational logic of a queer-feminist freedom fighter.
In her fringe debut she will entertain her audience by sliding between a humble Dane and a high-pitched wacko - putting pauses into play with one hand, while trying to control her erratic guitar with the other.
Trine Munk is a Danish woman, 33 springs old. She lives in Copenhagen, but used to live in London where started doing stand-up. Before doing comedy she was the co-founder of the group 'Queer Jihad' that published the book: Look! The Heterosexual World Order Is Breaking In To Pieces. She has lived in different Tree Houses and has been in a lot of Trucks.
A bewitching blend of the serious and the sublimely silly!
---
Tweets by TrineMunkXX