The Rhum Plants
The Rhum Plants
Theatre
3:30pm (1 hour)
6-18, 20-25 & 27-30 Aug 2015
6 - 8
This is a 2015 show that has now finished.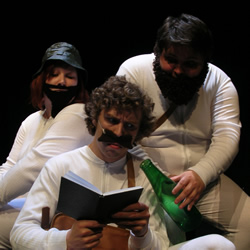 Mon
Tue
Wed
Thu
Fri
Sat
Sun
03
4
5
6
7
8
9
10
11
12
13
14
15
16
17
18
19
20
21
22
23
24
25
26
27
28
29
30
31
1
2
Venue details
The post-war scientific elite suspect botanical fraud, and want working-class Professor Heslop-Harrison's scalp - at any cost. This is a story about a real life scandal that still reverberates today. 'A fast-paced comedy from the dry seed of botanical fraud ... massively energetic' (WhatsOn-North.co.uk). Performed by Mangonel Theatre - a company that produces high-quality and exciting new work by emerging writers and actors, The Rhum Plants is 'a wonderful example of the emerging talent we have developing in the Highlands' (PlayPieces.co.uk).
Share this show
Reviews
Full press release
Mangonel Theatre presents The Rhum Plants by Phil Baarda.
During the 1940s, the Oxbridge scientific elite was becoming increasingly sceptical of working-class Professor Heslop Harrison's frequent and remarkable botanical discoveries on the Scottish island of Rum. They suspected fraud and despatched classicist and plant illustrator John Raven to investigate. The postulation? - that the ambitious and narcissistic Prof was surreptitiously planting rare plants on an industrial scale and passing them off as genuine. The Rhum Plants is a comedic re-telling of these real life events; events which still reverberate in botanical circles today.
Following hugely successful and sell-out performances during the 2014/15 Play Pieces lunchtime theatre season, The Rhum Plants is being presented for a full run at the Edinburgh Fringe, followed by a tour of the Highlands - venues including the island of Rum itself and the Artornish estate (owned by Hugh Raven, the son of the play's real life protagonist, John Raven).
Written by Phil Baarda, an emerging writer from the Highlands, the play was first drafted through the Playwrights' Studio Scotland mentoring scheme with Douglas Maxwell. It is directed by Dave Smith of Rightlines (writer of Whisky Kisses, The Accidental Death of an Accordionist, Who Bares Wins).
Mangonel Theatre is a new theatre company based in the Highlands, which promotes new writing from emerging writers and actors. A 'mangonel' is a small though highly effective catapult-type of weapon used in medieval siege warfare to conquer impregnable fortifications.
---
Credits
Tweets by MangonelTheatre