Stand Up Tragedy
Stand-Up Tragedy
Variety
7:30pm (1 hour)
8-10, 12-17, 19-24 & 26-30 Aug 2015
Free
This is a 2015 show that has now finished.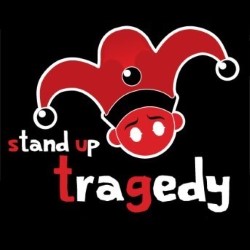 Show details
Variety performed on the following days in August 2015...
Mon
Tue
Wed
Thu
Fri
Sat
Sun
03
4
5
6
7
8
9
10
11
12
13
14
15
16
17
18
19
20
21
22
23
24
25
26
27
28
29
30
31
1
2
Venue details
'Takes in everything from music to comedy and is characterised by an emphasis on truth' (Independent). A variety show that explores tragedy. Comedians, musicians, storytellers and more combine into a different line-up every night and on Mondays we'll even have exciting special guest hosts. You can get an idea of what we're like by listening to our podcast. Look out for other Stand-Up Tragedy productions in PBH's Free Fringe Booklet. Past SUT acts have included Josie Long, Stewart Lee, Sara Pascoe, Grace Petrie, Eddie Pepitone, Robin Ince and Rob Auton.
Share this show
Full press release
Stand Up Tragedy is dedicated to having multiple voices and approaches to the tragic, and we have invited some guest hosts and collaborators to help expand what we do. We have eight special editions of the show:
10th August - Tragic Jabba: hosted and curated by Jenni Pascoe from the North East based spoken word night Jibba Jabba.
15th August - Tragedy Fails Better: Hosted by Varjack & Simpson, this podcast crossover with their Fail Better podcast will look at the tragic failures performers have had on and off stage.
17th August - Samantha Mann: Hosted and curated by Samantha Mann.
22nd August - Tragic Violence: A showcase of the most tragic comedy that sketch group Casual Violence! have created.
23rd August - Other Tragedies: A special edition of Other Voices spoken word cabaret, where all the tragedy is delivered by people from groups we rarely hear from.
24th August - Keith Jarrett: Hosted and curated by London-based serial poetry slam champion Keith Jarrett.
28th August - Lucy Ayrton: Hosted and curated by Oxford-based spoken word storyteller Lucy Ayrton.
29th August - Louise Fazackerley: Hosted and curated by Wigan-based poet Loise Fazackerley.
---
Tweets by StandUp4Tragedy