Revan & Fennell
Revan and Fennell: Fan Club
Sketch show
7:40pm (55 mins)
5-17 & 19-31 Aug 2015
6.50 - 9.50
This is a 2015 show that has now finished.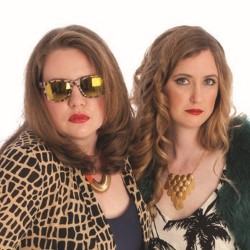 Mon
Tue
Wed
Thu
Fri
Sat
Sun
03
4
5
6
7
8
9
10
11
12
13
14
15
16
17
18
19
20
21
22
23
24
25
26
27
28
29
30
31
1
2
Venue details
Funny Women Variety Award winners Revan and Fennell make their observational, character-driven and fast-paced Edinburgh debut. Best New Sketch Act, So You Think That's Funny? finalists and London SketchFest Best Show finalists. They may not be particularly satirical, edgy or off the wall... but they went to drama school and know how to warm up their voices. Sort of. 'Terrific' (HuffingtonPost.co.uk). 'They put the boys to shame' (Scotsman). 'Reminiscent of Smack the Pony ... Comedic genius' (RemoteGoat.com).
Share this show
Reviews
Press coverage
Full press release
Fast-paced Edinburgh debut from award-winning comedy double act.
Female comedy double act Revan & Fennell make their Edinburgh debut with Revan and Fennell: Fan Club - a multimedia sketch show written, directed and produced by the pair.
Observational and character-driven in style, sketches are often inspired by social situations and popular culture, ranging from an unorthodox wedding speech to a BBC EastEnders parody. Scattered throughout the sketches are glimpses into the world of Revan and Fennell - two conflicting performers trying to make their mark in entertainment, and one with an ego to rival the size of the industry.
Revan & Fennell are a London-based award-winning comedy double-act consisting of writer and performers Rosie Revan and Alice Fennell.
Having met at East 15 Acting School, Revan and Fennell have written, directed and produced their own work since 2012. Winners of the 2013 Funny Women Variety Award at the Leicester Square Theatre, they were also finalists in the 2013 Best New Sketch Act So You Think That's Funny? competition. They recently reached the semi-finals of the 2015 Golden Jester Comedy Competition, which are due to take place in London in September.
---
Credits
Tweets by revanandfennell