Norman Conquests
The Norman Conquests
Theatre
12:05pm (50 mins)
14-15, 17-22 & 24-29 Aug 2015
5 - 8
This is a 2015 show that has now finished.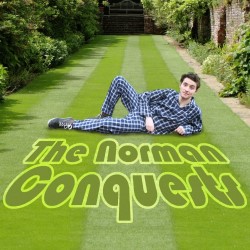 Show details
Theatre performed on the following days in August 2015...
Mon
Tue
Wed
Thu
Fri
Sat
Sun
03
4
5
6
7
8
9
10
11
12
13
14
15
16
17
18
19
20
21
22
23
24
25
26
27
28
29
30
31
1
2
Venue details
'Is that wrong of me? To want to see you happy?' Each day our talented cast perform a different play from Ayckbourn's classic trilogy The Norman Conquests. Meet Norman in ardent pursuit of three women: his wife, her sister and her sister-in-law. Table Manners, Living Together and Round and Round the Garden portray the hilarious and disastrous events of a single weekend from the perspective of three locations. Please contact our venue for specific showings. Can this dysfunctional family get along as old resentments, jealousies and rivalries are reignited?
Share this show
Reviews
Tweets by ThreadTheatreCo
Visitor reviews

hold
I booked to see the first of this classic trilogy and this young cast are clearly the performers of stage and TV of the future. With so much to see I hadn't planned for the full trilogy but I was hooked for more and glad I returned. The director caught the essence of what an audience would want to expect as did I. More than just a chuckle and glad I saw the full trilogy experience. I will look for these young performers again in the future because they certainly delivered their roles believable with classic charm.