Mathilda Gregory
How to Be Fat
Storytelling
6:55pm (50 mins)
7-16 & 18-31 Aug 2015
7.50 - 8.50
This is a 2015 show that has now finished.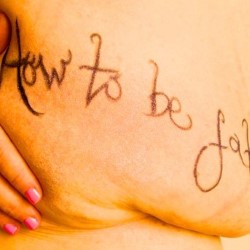 Show details
Storytelling starring Mathilda Gregory performed on the following days in August 2015...
Mon
Tue
Wed
Thu
Fri
Sat
Sun
03
4
5
6
7
8
9
10
11
12
13
14
15
16
17
18
19
20
21
22
23
24
25
26
27
28
29
30
31
1
2
Venue details
A solo comedy show for anybody, ideally a fat one. Not how to get fat (no one knows how to do that), how to be fat. How to have a fat body. I have a fat body. And being fat is difficult. Maybe I should make a show about having a fat body. Maybe that would be helpful. For me. How to diet. How to love yourself the way you are. How to flatter yourself. How to be OK. 2014 sell-out. 'Wickedly funny' **** (TheLatest.co.uk). 'Delivered with warmth, candour and simplicity' **** (ThreeWeeks).
Share this show
Reviews
Press coverage
Full press release
A Show for Every Body.
How to be Fat is a new comedy show from Mathilda Gregory, a writer and performer who is fat. The show is about the ridiculous things and the sad things about having a fat body. It is about being fat, what happens, what that means, how it makes fat people feel - not just squashy.
It is about what to do about the best solution to one's own personal obesity crisis: diet and exercise, or loving your body or making a show about being fat. It is about which if those things is the most difficult to do, which of them is even possible.
Gregory was the winner of the BBC's Laughing Stock Competition in 2011, was named a Funny Women One to Watch in 2013 and was Writer of the Year at the Erotic Awards in 2007. She is a regular contributor to The Guardian and is developing two sitcoms with the BBC.
The show follows Gregory as she explains the irritating details of life as a fat person. She tried recording everything she eats on Instagram, tries some popular diets and as a last ditch attempt, tries to eat exactly what her thin sister eats.
And when none of this works, faces the reality of living with a fat body by holding an ill-advised Guess My Weight competition. Prize: one fat middle-aged woman.
---
Tweets by mathildia