Jody Kamali
Jody Kamali - Spectacular!
Sketch show
6:45pm (1 hour)
5-18 & 20-31 Aug 2015
8 - 10
This is a 2015 show that has now finished.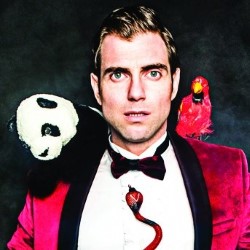 Show details
Sketch show starring Jody Kamali performed on the following days in August 2015...
Mon
Tue
Wed
Thu
Fri
Sat
Sun
03
4
5
6
7
8
9
10
11
12
13
14
15
16
17
18
19
20
21
22
23
24
25
26
27
28
29
30
31
1
2
Venue details
'Brilliant, original, visual comedy' (Harry Hill). A one-man character comedy show featuring thrilling feats of amazingness, set in the world of a dysfunctional travelling circus. Expect high doses of inventive physical comedy and a variety of wondrous characters who strive to be nothing but... spectacular! Bristolian Jody is a regular on the comedy sketch and variety circuit. He will be appearing in the forthcoming feature film Golden Years. 'Inspiring' Stage. 'Face-achingly funny' (Ayoungertheatre.com). 'A surreal and silly hour of fun' (ThreeWeeks). 'Daringly original' (Edfringereview.com).
Share this show
Reviews
Press coverage
Full press release
Fresh from filming the British Feature Film Golden Years alongside Bernard Hill, character comedian Jody Kamali brings his latest exhilarating and bizarre physical comedy show Spectacular! to the Underbelly.
Set in the world of the dysfunctional Gorbachev Circus of Wonder, this is a circus like no other as Jody takes you into his playfully silly and imaginative world. Headed up by Animal Tamer The Great Fernando and his array of gifted animals. There'll be shark attacks and snakebites, vanishing audiences members... and The Man of Mystery who attempts the impossible - juggling plastic bags! There's even a love story involving an ironing board, which has been deeply moving audiences at the Brighton and Prague Fringes.
The Gorbachev Circus of Wonder is shrouded in mystery. Many of the talented acts have mysteriously disappeared in strange and unusual circumstances. Only three remain.
Jody Kamali hails from Bristol. His wife is Russian and upon visiting a strange circus in Moscow, he got the inspiration for the theme of the show. Jody is regular at Fringe Festivals and on the character/sketch and comedy variety circuit in London and the UK. He has been working with Harry Hill on his latest TV show, after Harry spotted Jody at a gig. He will appear in the much anticipated forthcoming British feature film Golden Years alongside Bernard Hill, Simon Callow, Philip Davis and Una Stubbs. No stranger to YouTube, Jody became an Internet star back in 2007 with his Bristolian handyman character 'Terry The Odd Job Man'. After crafting and honing his act on the Free Fringe for four years, Jody is delighted to be programmed at the Underbelly.
Videos
---
Tweets by jodykamali