Jamie MacDonald
Jamie MacDonald: Oblivious
Stand-up
9:05pm (1 hour)
5-17 & 19-30 Aug 2015
7.50 - 10
This is a 2015 show that has now finished.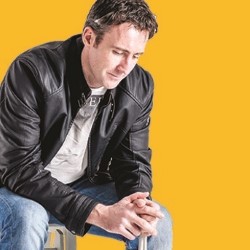 Show details
Stand-up show starring Jamie MacDonald performed on the following days in August 2015...
Mon
Tue
Wed
Thu
Fri
Sat
Sun
03
4
5
6
7
8
9
10
11
12
13
14
15
16
17
18
19
20
21
22
23
24
25
26
27
28
29
30
31
1
2
Venue details
Britain's hottest blind comedian returns! One man, one mic, one white stick and countless rave reviews. 'One of the funniest Scots on the circuit' **** (Sunday Herald). 'Hilarious' **** (BroadwayBaby.com). 'Brilliant' **** (Edinburgh Festivals Magazine).
Share this show
Reviews
Press coverage
Full press release
oblivious
?'bl?v??s/
adjective: not aware of or concerned about what is happening around one. "synonyms: unaware, unconscious, heedless, unmindful, insensible, unheeding, blind, deaf, unsuspecting, unobservant
Britain's hottest blind comedian, Jamie MacDonald returns to the Edinburgh Festival Fringe this year with his brand new show - Oblivious at The Assembly.
With a chatty style and easy humour, 34 year-old Jamie, otherwise known as That Funny Blind Guy, is fast creating a comedic stir for his outrageous and oftentimes jaw-droppingly "un-PC", anecdotes.
Jamie's show Oblivious showcases the comic at his absolute best with observational stories about life as he "sees" and feels it. Prepare yourself for a tour-de-force hour of fun as the Paralympian of comedy demonstrates just how one man, with one mic, and one white stick completely rocks being oblivious.
Jamie MacDonald
34 year-old Jamie MacDonald is a Glaswegian gigging stand-up comedian, writer and voice over artist who happens to be blind. Jamie started losing his sight at the age of 16 when he was diagnosed with Retinitis Pigmentosa (RP), a progressive degenerative retinal disease which will eventually leave him totally blind.
Undeterred with his prognosis, Jamie completed an Ancient History degree at St. Andrew's University and a Law degree at Aberdeen University and became a Corporate Banker for Bank of Scotland in London. Whilst in London Jamie succumbed to the pull of the stage and in 2009 gave his first performance at an open mic night at the Comedy Café Shoreditch.
In 2010 Jamie left banking for good and returned to Edinburgh to pursue a career as a stand-up comedian on the Scottish comedy circuit. Over the past few years Jamie has written scripts for companies such as Dewar's Whisky and the audio tour company Walking Heads. Jamie made his Fringe debut with his own one man show That Funny Blind Guy at the Laughing Horse at the 2013 Fringe, returning in 2014 with his hit follow up show That Funny Blind Guy 2.
---
Tweets by FunnyBlindGuy