Impromptu Shakespeare
Impromptu Shakespeare
Improv
5pm (40 mins)
7-17 Aug 2015
Free
This is a 2015 show that has now finished.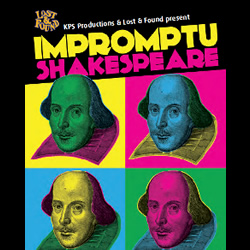 Mon
Tue
Wed
Thu
Fri
Sat
Sun
03
4
5
6
7
8
9
10
11
12
13
14
15
16
17
18
19
20
21
22
23
24
25
26
27
28
29
30
31
1
2
Venue details
Brochure note
This show was not listed in the official Fringe programme so you may not find details elsewhere.
Returning after a successful premiere in 2013. Bursting with love, poetry, comedy, tragedy, soliloquies, power struggles, mistaken identity and the supernatural, Impromptu Shakespeare creates an entirely new and unique play, in the style of Shakespeare, and based entirely on suggestions literally thrown at them (on ping pong balls) by the audience.
Share this show
Reviews
Press coverage
Full press release
Join some of the UK's most exciting improvisers for 40 minutes of riotous fun in an ingenious family friendly show (12+) that will delight Shakespeare aficionados and rookies alike. The Impromptu Shakespeare team have their tongues firmly in their cheeks and their feet planted in the works of The Bard.
Impromptu Shakespeare have been working together since their critically acclaimed 2013 Edinburgh Fringe debut. The show features a rolling cast of leading comic and theatrical improvisers and actors:
Sylvia Bishop (Peablossom Cabaret), Lucy Fennel (Upstairs Downton, SmART Attack), Rosy Fordham (Upstairs Downton, Secret Cinema), Rebecca MacMillan (The Maydays), Tom Wilkinson (The Oxford Imps) and Jen Rowe (The Maydays, Merry Wives of Windsor @ BOAT). They are directed by Rob Wilson (Get Lost & Found).
Rob Wilson studied Shakespearean acting at Guildhall, and Improvisation in Chicago (Second City and iO). He founded the Impromptu Shakespeare Company in 2013. Rob also runs Get Lost & Found: a multi-disciplinary arts organisation. Current projects include Roald Dahl & the Imagination Seekers, 'The Commune' a new area at Bestival Festival, Camp Bestival's Bluecoats, Pirate School, and various corporate events.
---
Credits
Tweets by ImpromptuShakes