Napier University Drama Society
Horseplay - The Troy Musical
Musical
7:35pm (1 hour)
7-15 & 17-22 Aug 2015
6 - 10
This is a 2015 show that has now finished.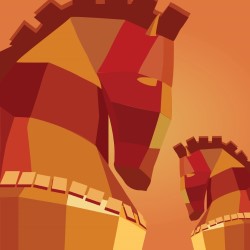 Mon
Tue
Wed
Thu
Fri
Sat
Sun
03
4
5
6
7
8
9
10
11
12
13
14
15
16
17
18
19
20
21
22
23
24
25
26
27
28
29
30
31
1
2
Venue details
Napier University Drama Society are thrilled to present their Fringe debut of Horseplay: The Troy Musical. Telling the story of the Trojan War, Horseplay explores Greek mythology in a light-hearted, fun and incredibly entertaining musical escapade that will be loved by both children and adults alike. Horseplay is a rollicking story for the whole family full of hysterical characters, catchy songs and plenty of laugh out loud moments so come and join us for an adventure you'll never forget!
Share this show
Reviews
Full press release
Napier University Drama Society are thrilled to present their Fringe debut of Horseplay: The Troy Musical. Horseplay explores the Greek myth of Troy and the Trojan War in a light-hearted, funny and incredibly entertaining musical escapade! Full of hysterical characters, scores of laugh out loud moments, and some of the most delightfully catchy songs that you'll be humming long after the final bow, Horseplay is a rollicking historical re-telling for the whole family!
This epic myth will be retold in wonderful all-singing, all-dancing glory! Paris, Prince of Troy, is sent away from his home as a mere infant after a grave prophecy of Troy's ruin is attached to him. It is King Priam's hope that this prophecy can be averted if Paris never sets foot within the mighty city walls. However destiny is not that easily eluded, especially when vain gods, discordant apples, beautiful Spartan queens, and a gigantic wooden horse have anything to do with it!
It isn't long before a grown Paris finds his way back home and sets in motion a war that will bring all of Greece, its gods, thousands of Achaean soldiers - from Menelaus to Agamemnon and a singing Banana to the gates of Troy!
Napier University Drama Society (NUDS) is a performing company representing a talented array of students who love creating, producing and performing theatre productions. Awarded 'Best Society' by the university eighteen years in a row and this year receiving the prestigious Team Napier and Most Active Society titles, NUDS is a very proud theatre company cultivating new talent every year.
One of the producers and a two-year society president, Meg McAuley, said "NUDS has grown and changed over the past few years, becoming more like a theatre company than simply a society. However, we have not had the capacity to compete with larger and more experienced universities who bring their theatre work to the Fringe Festival every year. This year we changed that and hope this can become an addition to our annual repertoire".
Joe Derham, co-producing the show, states "Having seen the performers' commitment it is clear that everyone involved has a very strong emotional connection to the society and the project. Although there is still a huge amount to do, performers and organisers have already started to feel the reward that you can only get being part of a great team like this, especially when creating such an ambitious show."
McAuley adds, "Quite simply, this show means the world to us."
Cast includes: Samuel Hogarth, Fraser Nickolls, Josh McAuley, David Fraser, Andrew Lees, Joe Derham, Georgia Moran, Laura Preston, Stuart McCallum, Franny Penny, Hannah Neal, Samantha Long, Kyra Skellet, Lisa Aref, Jack Duffy, Cora McGookin, Jordan McBrearty, Sophie Adams, Meg McAuley and Shona Westwood.
The creative team includes: Sam Eastop and Alexander Cook as directors, alongside Joe Derham and Meg McAuley as executive producers. Music is directed by Adam Kilgour, while the production is managed by technical director Steph Clark and assisted by Cara Becker.
---
Credits
Tweets by NapierNUDS