Hedwig and the Angry Inch
Hedwig and the Angry Inch
Music
10:10pm (100 mins)
7-15, 17-22 & 24-29 Aug 2015
12
This is a 2015 show that has now finished.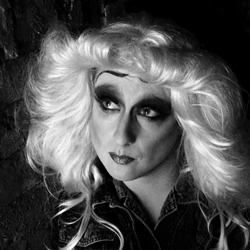 Mon
Tue
Wed
Thu
Fri
Sat
Sun
03
4
5
6
7
8
9
10
11
12
13
14
15
16
17
18
19
20
21
22
23
24
25
26
27
28
29
30
31
1
2
Venue details
The internationally ignored song stylist from Berlin is back. Join Hedwig and the band on their anatomically incorrect rock odyssey. The musical tells the story of Hansel Schmidt, a young man from East Berlin who seizes an opportunity to escape communist Germany by getting a sex change and marrying an American GI - but that's just the start of the story. Throw into the mix a nerdy teenager called Tommy, a major case of plagiarism and a seriously scorned Hedwig, and you're starting to see how this story is far from what it seems.
Share this show
Reviews
Press coverage
Full press release
From East Berlin to Junction City, the internationally ignored song stylist Hedwig arrives in Edinburgh for a 3 week run of her one night tour!
The 7th August we will see Jake Benson donning his high heels to take to the stage as Hedwig alongside the Angry Inch (Hedwig's band), once the clock strikes 10:10pm the Angry Inch will be aiming to please Ms Hedwig as she delivers the Tony Award winning story of her life.
Hedwig has an amazing tale to tell and an extraordinary way of telling it. Through song and story-telling she tells the story of love, loss, betrayal and the ultimate search for her other half; it's not all tears as she reflects on moments that make her laugh because she will cry if she doesn't.
Like many, Hedwig has had her fair share of bad luck and lost more than most, 5 inches was taken by a backstreet Doctor in East Berlin, her husband left her in Junction City and musical career stolen by Tommy Gnosis - a comical tragedy told through monologue and song which invites the audience to laugh, cry and become a part of Hedwig.
Written by John Cameron Mitchell (original Hedwig and Tony Award winner for his reprise on Broadway) and Stephen Trask - Playbill recently announced Hedwig and the Angry Inch as the #1 Rock Musical in Broadway History - "Hedwig And The Angry Inch is not only the most undeniably rock-and-roll score written for the theatre, but also the single greatest original musical of the last 25 years -- of any kind".
We can all relate to "Hedwig" as there is a part of her in all of us; You can try and tear down, but before you do listen!
Cast and Crew
Hedwig: Jake Benson
Yitzhak: Nadia Dawber (Yitzhak)
Guitarists: Ollie Base and Alissa Owen
Bass: Joe Lester
Drums: Warren Muggleton
Writer: John Cameron Mitchell
Music: Stephen Trask
Director: Shane Robson
Musical Director and Keys: Chris Arnold
Stage Manager and Film Creator: Rachel Bitoun
Publicity Manager: Cherilyn Mawby
Make up Artist and Costume Design: Emily Brown
---
Credits
Tweets by hedwigedfringe