George Zach
George Zach: Greek Tragedy
Stand-up
2:45pm (40 mins)
8-31 Aug 2015
Free
This is a 2015 show that has now finished.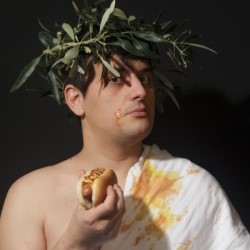 Show details
Stand-up show starring George Zacharopoulos performed on the following days in August 2015...
Mon
Tue
Wed
Thu
Fri
Sat
Sun
03
4
5
6
7
8
9
10
11
12
13
14
15
16
17
18
19
20
21
22
23
24
25
26
27
28
29
30
31
1
2
Venue details
George is a Greek comedian living in the UK. Has appeared in all the biggest clubs in the UK, as well as on BBC1's This Week and also debuted his show in Australia last March. This is a work in progress show regarding the fact that he is too Greek for his mates here, not Greek enough for his parents abroad, and trying to fit in in a world he believes to be more stupid than him. Also, he is dodging his national service. 'His jokes are solid, his timing impeccable' (List).
Share this show
Press coverage
Full press release
My name is George Zach and this Edinburgh Fringe I will be the only Greek born and raised comic at the Edinburgh Festival. My show is called Greek Tragedy. This is my press release!
Let's do an imaginary Q&A:
No offence, but are you any good?
I am a professional comedian, playing for the biggest clubs in the country. I have also supported Luisa Omielan in her Am I Right Ladies tour.
Last March I did a sold out show at the Melbourne Comedy Festival.
I have also appeared on BBC One, as part of the panel on This Week.
So... yes. I am worth seeing
How about PR? Do you not have a PR person?
PR? YOU THINK I CAN AFFORD THAT???
Christ. I said I am funny, not "successful".
Right. So what is the show about?
When I was a little boy I almost died because of a heart condition and I was lucky enough to not only survive but have the Make A Wish Foundation fulfil a wish of mine. It taught me many lessons on how to approach life, family, relationships and how to generally not be afraid of looking stupid. I have dodged my national service and to the Greek army I am a wanted criminal. This is a show about who I am, what my comedy is like and some of the best routines I perform in my set.
With it being a free show I shall be asking for money. Now I know that a Greek person asking for money is very unoriginal-almost hack, but I hope you look past that!
Cool. I will definitely come. Where and when is it?
Cowgatehead, at 14:45. Not much for you to do at that time, so take a chance on me. I would love to see you there!
Anything else you would like to add?
Here is a clip of me in action-if you are the sort of person who enjoys spoilers.
---
Tweets by GreekGeordie