Franks & Skinner
Franks and Skinner Present: Myself and Myself
Improv
10:40pm (50 mins)
6-17 & 19-30 Aug 2015
6 - 7
This is a 2015 show that has now finished.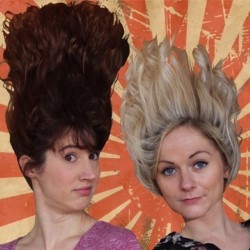 Mon
Tue
Wed
Thu
Fri
Sat
Sun
03
4
5
6
7
8
9
10
11
12
13
14
15
16
17
18
19
20
21
22
23
24
25
26
27
28
29
30
31
1
2
Venue details
Franks and Skinner dance, sing and improvise in their latest comic adventure. With over 20 characters, fast-paced comedy and classic 90s tunes, this show will tickle you in more ways than one (subject to guarantee). Myself and Myself is a surreal take on friendship, fertilisation and funkiness. Franks and Skinner create odd, dark humour from everyday events, and pick up on the quirks and idiosyncrasies of human nature. There are wigs, sequin jackets, a saxophone and the odd bike helmet! They're loud, they're proud, they're placid, they're flaccid. 'Very funny indeed' (FemaleArts.com).
Share this show
Reviews
Press coverage
Full press release
This brand new, female comedy duo, Franks & Skinner (not Frank Skinner!!) are proud to be making their Edinburgh Festival Fringe debut.
They bring their very first show Franks and Skinner Present: Myself and Myself to Just the Tonic, The Bottle Room in The Mash House at 10.40pm.
Their sparky, idiosyncratic comedy will introduce you to over 20 characters, where a chaotic world mixes the quirks of human nature and performance with a surreal take on friendship, fertilisation and funkiness. There will be, amongst other things, Elves, Vampires, Cilla Black, public transport and at least two Lorraine Kellys.
Lizzie Franks from Woodhurst and Nerine Skinner from East Grinstead met working in panto in Newport, South Wales playing two types of French bread, Baguette and Croissant and a comedy double act was born. Their all-embracing attitude to comedy found them discovering their physical side as a pair of Compering Clowns at the Rich Mix Theatre, London. They then honed their improvisatory skills at the Stockton International Festival, as Russian, Cossack dancing, Frog tamers. Recognising that they shared a whacky, subversive view of the world and with a background and training in dance and musical theatre, they decided to create surreal and unconventional sketches, characters and routines which gave them the formula for Franks and Skinner Present: Myself and Myself.
After a sell-out Edinburgh Preview at The Pleasance, London they are ready to take the Festival by storm. Franks and Skinner Present: Myself and Myself is an eclectic mix of song, dance, improvisation, sketches, a saxophone, a flute, a pregnant clown, 90s pop and sparkly jackets.
Franks and Skinner also use an overwhelming number of unimpressive, cheap props. They are hoping their addiction to Poundland is by no way a disadvantage.
---
Credits
Tweets by FranksSkinner