Fiona Herbert
Frequently Asked Questions
Storytelling
8pm (1 hour)
6-7, 9, 11-16, 18-23 & 25-30 Aug 2015
8
This is a 2015 show that has now finished.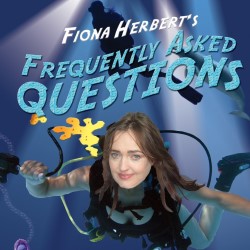 Show details
Storytelling starring Fiona Herbert performed on the following days in August 2015...
Mon
Tue
Wed
Thu
Fri
Sat
Sun
03
4
5
6
7
8
9
10
11
12
13
14
15
16
17
18
19
20
21
22
23
24
25
26
27
28
29
30
31
1
2
Venue details
Fiona Herbert (winner of Tall Tales 2012 and 2015) attempts to answer her FAQs about work, rest and play. Topics queried include teetotal vegan dinner parties, dolphin assault, getting dumped at sea, getting dumped on Skype, mentoring the feral, surviving human sacrifice (her own) and the perils of pony trekking without adequate breastal support. Plus snorkel vomit. Fiona has performed internationally on radio and television and regularly stands in as host of Jo Caulfield's monthly sell-out show, The Speakeasy. 'Brilliantly original with laugh out loud honesty' (Scottish Storytelling Centre). 'Funny, clever and relatable' (7Ahead.com).
Share this show
Full press release
Having watched her own face crying whilst being dumped on Skype, Fiona realised that throughout her life she has wasted time on the wrong type of people, the wrong type of work and the wrong type of play.
Attempts at serenity have always ended in tears, and once with snorkel vomit and a dolphin induced hairline fracture. On an even more sombre note, Fiona also shares the heartbreak of losing her best friend. To yoga. And her best bra. To pony trekking.
Fiona Herbert is an award winning storyteller, being the first woman to win the national Tall Tales Competition in 2012, then again in 2015. This makes her a double Oscar winner, as the prize is a gnome called Oscar. She regularly appears as guest host of Jo Caulfield's Speakeasy, a monthly sell out show featuring comedy, stories, music and magic at the Netherbow Theatre, Edinburgh. She has told tales on radio and television, in Scotland and abroad.