Tom Glover & Luke Honnoraty answers 10 Edinburgh Fringe Questions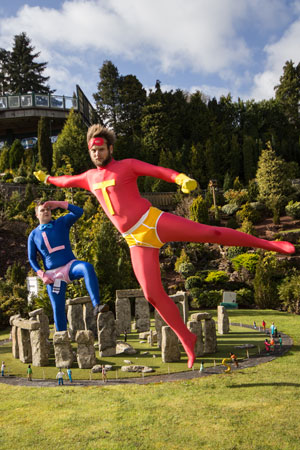 Small Town Heroes' Tom Glover answers our 10 questions.
1. Tell us about your career so far. Are you happy with where you're at?
Luke and I met in the South West New Act of the Year competition in 2010. He beat me and went on to win. It's totally fine, it doesn't even bother me, he rarely ever mentions it and the night terrors are becoming a lot less frequent.
2. Describe your show in exactly 23 words.
Straight down the line stand-up comedy with no gimmicks. No one dies, nobody learns anything and no one plays a ukulele. Word.
3. Why are you putting yourself through this famously stressful experience?
I find that the lonely late night drives along the M5, and on subsequent diversion routes, just aren't soul destroying enough.
4. Any cunning plans to get more punters in?
We've had a smaller version of our poster printed onto card. We're going to hand them out to members of the public throughout the day. It's a pretty out there idea but you've got to think outside the box at Edinburgh.
5. How much money do you think you'll lose/make this year?
I'm not greedy, I just want enough to retire and have my own farm with some chickens.
6. What's your weirdest past Fringe experience?
Last year I was doing a two hander with Cerys Nelmes. One night we were about to pull the gig as there was no one there when all of a sudden and incredibly drunk LGBT group bundled into the room. It later transpired that they'd been ejected from Nancy Dell'Olio's one woman show for being too rowdy.
We did zero material but it was probably the most fun and proftibable show of the run. I'm not sure I could run an improvised dating show every night though.
The most depressing moment was when I was flyering in the rain and a double decker bus drove past which had an advert on the side for the Pudsey movie. It was already quite a bleak moment and being mocked by a millionaire dancing dog was the final straw.
7. What other shows are you hoping to see?
I imagine my list would be the same as many others but sadly we clash with loads of great shows that I'd like to see. Some lesser known acts who I've gigged with and would recommend would be Kelly Kingham, Jordan Brookes: I've Got Nothing, Scott Bennett and Laura Lexx: Knee Jerk. I'm sure all their shows will be excellent.
8. If you took over programming a venue, what would your perfect line-up of comedians be?
Frank Skinner, Russell Brand, Bill Burr, Josie Long, James Acaster and Adam Money (UK comedy's best kept secret).
9. Name the one person you'd rather not bump into during the festival.
Pudsey the dog. Bastard.
10. Why should audiences pick your show over the 1,700+ other comedy offerings at this year's festival?
I imagine people will mainly pick it because they've not been able to get into the show they were hoping to see. They'll be stood in the rain trying to load the Fringe app on their phone whilst their partner shouts at them for not booking tickets in advance. At that point I'll say 'free comedy starting in 5 minutes' and they'll pick it purely for convenience and to prevent the argument escalating.
It is funny though.
'Small Town Heroes' is at 8:15pm at Southsider Bar on 8-22 August. Listing