Exeter Revue
The Exeter Revue: Sketchup
Sketch show
2:10pm (50 mins)
8-12, 14-19, 21-26 & 28-29 Aug 2015
Free
This is a 2015 show that has now finished.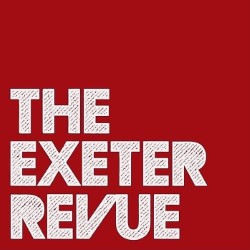 The listing for this show in the printed programme is wrong. The following details are more likely to be correct, but we suggest you independently check.
Mon
Tue
Wed
Thu
Fri
Sat
Sun
03
4
5
6
7
8
9
10
11
12
13
14
15
16
17
18
19
20
21
22
23
24
25
26
27
28
29
30
31
1
2
Venue details
Returning to Edinburgh following their five-star 2014 Fringe show Sketchy At Best, up-and-coming student sketch troupe The Exeter Revue present a hilarious new show packed-full of inventive sketches and songs. Expect daft scenarios, big characters, and witty dialogue. 'More professional feel than any of the other student sketch shows', 'Verged on brilliant', 'They had a full house who were kept laughing throughout' (Audience Reviews, EdfringeReview.com). 'A comedy masterclass ... belly-laughing is unavoidable' (Exepose). 'Young talents whose undeniable energy is a joy to watch on stage ... Superbly witty, wonderfully imaginative and marvellously clever' ***** (Yuppee.com).
Share this show
Reviews
Full press release
The Exeter Revue return with a hilarious new sketch show for this year's Edinburgh Fringe. Following on from their five-star Sketchy at Best, which ran for 18 shows at The Edinburgh Fringe Festival 2014, their new show Sketchup is not one to be missed.
An original show featuring young and inspiring talent from the University of Exeter, Sketchup is packed full of fresh material with creative sketches and songs. Self-written and directed, it showcases the finest comedic talent that the University of Exeter has to offer.
Featuring brand new, original sketches performed by a cast of four of the most talented comedy performers in Exeter, this show promises laughter, entertainment and plenty of energy.
Performed by Oli Gilford, Jack Edwards, Rachel Tysh and Grace Tilley. Produced by Grace Pilsbury.
---
Credits
Tweets by TheExeterRevue