Elaine Malcolmson
Elaine Malcolmson: Arrangements
Stand-up / Storytelling
2:30pm (1 hour)
6-16 & 18-30 Aug 2015
7 - 8
This is a 2015 show that has now finished.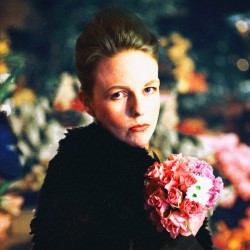 Show details
Stand-up show / storytelling starring Elaine Malcolmson performed on the following days in August 2015...
Mon
Tue
Wed
Thu
Fri
Sat
Sun
03
4
5
6
7
8
9
10
11
12
13
14
15
16
17
18
19
20
21
22
23
24
25
26
27
28
29
30
31
1
2
Venue details
You don't need to be a florist to attend this show. It's just a very funny story, with twists and turns. It's fine for hayfever sufferers too, even without antihistamines. It's just a story about making decisions. You don't even have to like flowers to enjoy this show. It's just a story about growing up. I mean, you could hate flowers and still love this show. It's just a story with challenges, self-reproach, jokes and death. 'Bone-dry and talented ... exquisite material' (Edinburgh Evening News). 'Full of comedy life' (Skinny).
Share this show
Reviews
Press coverage
Full press release
Elaine Malcolmson's solo Fringe debut is a dark, uplifting, twisty tale about the importance of making your own Arrangements.
Decisions, self-reproach, jokes and death - when Julie has to face up to the responsibilities of adulthood, she makes some bad decisions that lead to her darkest days and ultimately, the biggest mistake of her life. Full of twists and turns, highs and lows, Arrangements is a heartening story, deftly told by Northern Irish native and hopeful cynic Elaine Malcolmson. Contains flowers, but suitable for hay fever sufferers.
Elaine Malcolmson was born and raised in Northern Ireland, spent time in Wales, and has lived in Glasgow for over 10 years - she's the first to admit you'll be lucky to understand a word she says!
She is a Funny Women finalist and was nominated for a Scottish Variety Award in 2010. Elaine gigs all over the UK and made her international comedy debut at New York Comedy Festival in November 2012. She has appeared at the Big Tickle Comedy Festival in Derry, Merchant City Festival in Glasgow and Glasgow International Comedy Festival. Elaine has written for and performed in various sketch groups including The Stockholm Syndrome and Alchemy (Brown Eyed Boy productions). She has written for various BBC Radio channels and has also been known to act.
---
Tweets by emalcolmson