Distinguished Gentlemen
Distinguished Gentlemen (But Really Just a Couple of ***ts)
Theatre
8:40pm (50 mins)
7-8, 10-15, 17-22 & 24-29 Aug 2015
7 - 11
This is a 2015 show that has now finished.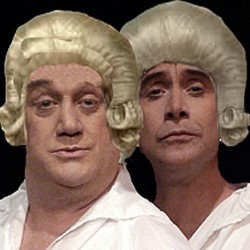 Show details
Theatre performed on the following days in August 2015...
Mon
Tue
Wed
Thu
Fri
Sat
Sun
03
4
5
6
7
8
9
10
11
12
13
14
15
16
17
18
19
20
21
22
23
24
25
26
27
28
29
30
31
1
2
Venue details
A plague on both their houses! Following from their 2014 Edinburgh Fringe complete sell-out, the team that brought you The Importance of Being Earnest as Performed by Three F**king Queens and a Duck now conspire to present an outrageous tale of lust and lunacy, as two very distinguished gentlemen (but really just a pair of old queens) set out to destroy each other's reputation and hopefully bang a mysterious but randy young gentleman at the same time. Over the top in every way and with very little taste.
Share this show
Reviews
Press coverage
Full press release
Australia's longest running GLBTI theatre company Out Cast Theatre has been storming Edinburgh since 2008 with some of the most outrageous shows in recent Fringe history - Jane Austen's Guide to Pornography, Adventures of Butt Boy & Tigger.
Sell-out seasons from the powerhouse Monstrous Acts to last years' The Importance of Being Earnest as Performed by 3 F**king Queens & a Duck; Out Cast Theatre have played to some very mixed audiences, but it seems the Scots and many other eager Fringe audiences cannot get enough of Australia's longest running, totally off the wall, GLBTIQ theatre company.
Now comes an even wilder ride from the land Down-Under with the disgracefully ribald comedy Distinguished Gentlemen (But Really Just A Couple Of ***ts) - A lewd and lascivious tale of the handsome stranger with the mysterious background and the two old queens vying for his attention. Landed gentry have never behaved this badly just for the sake of a little rumpy-pumpy.
It's fast, funny and furiously offensive. A barrage of filthy one-liners, over-the-top performances and promises of absolutely no subtlety.
We urge you not to miss the campest show on the fringe.
A plague on both their houses!
Out Cast Theatre
Australia's longest running theatre collective with an emphasis on works relevant to the gay, lesbian, bi, straight, transgender communities. Out Cast was established in 1997. Out Cast is now run on a production to production basis of 4 shows a year as well as touring commitments. For the past 12 years we have embarked on tours to queer festivals in Perth and Adelaide, undertaken very successful sell out seasons of our shows in Edinburgh, Dublin, Manchester and London. All this as a completely unfunded company, given little financial assistance except through some very loyal sponsors and always at great risk of financial failure.
Steven Dawson
Steven Dawson is an actor, director of over 80 productions and writer of 54 performed plays. Artistic Director of Out Cast Theatre, the gay and lesbian theatre company of Melbourne, Australia. Graduated from the NIDA Director's Course in 1985, was a member of the NIDA Playwrights Studio and holds a Diploma in Performance from the University Of Western Sydney.
His performed plays include Here & After, The Mormon Cookie, Touch This, The Importance Of Being Earnest As Performed by 3 F**king Queens & A Duck, Monstrous Acts, Mr Braithwaite Has A New Boy, Dead Queen, The Boy On The Beach.
Plays he has directed include Observe The Sons Of Ulster Marching Towards The Somme, Bent, Gertrude Stein & A Companion, The Man From Mukinupin, The Realm Of Wasps, Miss Julie, Black Comedy, The Elephant Man, Three Sisters and numerous productions of his own work.
As an actor his most recent appearances include Ulysses Prestissimo for the Melbourne James Joyce Society and The Importance Of Being Earnest As Performed by 3 F**king Queens & A Duck at the Edinburgh Fringe. Other appearances include Once A Catholic, Hamlet, The Glass Menagerie, See How They Run, The Club, Julius Caesar, Easter, A Hard God, The Hired Man. He has worked as a freelance drama tutor/director. Some of his published work can be found at Lulu.com.