Die Roten Punkte
Die Roten Punkte - Haus Party
Cabaret / Variety
10:15pm (90 mins)
9, 16 & 23 Aug 2015
10 - 12
This is a 2015 show that has now finished.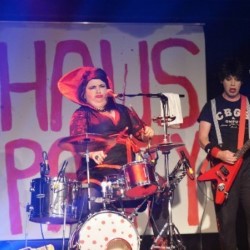 Show details
Cabaret / variety performed on the following days in August 2015...
Mon
Tue
Wed
Thu
Fri
Sat
Sun
03
4
5
6
7
8
9
10
11
12
13
14
15
16
17
18
19
20
21
22
23
24
25
26
27
28
29
30
31
1
2
Venue details
For the first time, Die Roten Punkte's Otto and Astrid bring their late night cult hit to Edinburgh! A ganz-toll line-up of musical comedy, variety and party game madness from Berlin's self-proclaimed best band ever! Ich liebe Haus Party!
Share this show
Press coverage
Full press release
In 2013, Die Roten Punkte appeared in Edinburgh and bloody smashed it, got about a million amazing reviews and were nominated for the TO&ST (Time Out & Soho Theatre) Best Cabaret Award.
Since then they've played more dates with Amanda Palmer, had a super successful run at the Soho Theatre in London, and sold out shows in Belgium, Ireland, UK, Canada, USA, Germany, Australia, New Zealand, Hungary, Poland and Italy. This year they won ANOTHER coveted award - the Melbourne Green Room Award for Best Production Cabaret.
This year they return to the Edinburgh Fringe (not with a full show, watch out for that next year folks) but with their late-night Melbourne International Comedy Festival cult hit Haus Party which will be turning Edinburgh upside-down for the first time. Unscripted and very raw, Haus Party is unlike any late night variety show you've ever seen before. A 'ganz toll' line-up of the very best the Edinburgh festival has to offer in musical comedy, variety, circus, cabaret and party game madness from Berlin's self-proclaimed best band ever.
Haus Party Edinburgh will also be introducing a riotous Lip Sync Battle - the fresh cult hit from this year's Melbourne Comedy Festival - featuring the Fringe's top comedians lip syncing for their lives with regular special guest and the suave syncer - Rhys Nicholson. Bring the hooks in, where the bass at? Champagne spillin', you should taste that.
For those of you not yet lucky enough to be familiar with Berlin's Prince and Princess of Indie Rock and Europop, Astrid and Otto are Die Roten Punkte (The Red Dots); a lipstick-smeared, tantrum-loving, sonic collision between B52s, The Pixies, Kraftwerk and early Ramones. Orphaned as children when Astrid was 12 and Otto was 9, the brother and sister duo found shelter in a Berlin squat and never looked back. A Die Roten Punkte gig is a wild, rock'n'roll cabaret ride, full of hilarious, truly catchy and award-winning pop songs, constantly interrupted by the squabbling of the dysfunctional siblings. Their songs are ridiculously infectious and their Haus Party is one of the most irreverent and hilarious gigs you are ever likely to see.
---
Tweets by DieRotenPunkte