Death By Pie
Health Under Fire
Theatre
6:15pm (1 hour)
8-25 & 27-29 Aug 2015
Free
This is a 2015 show that has now finished.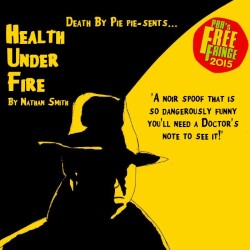 Show details
Theatre performed on the following days in August 2015...
Mon
Tue
Wed
Thu
Fri
Sat
Sun
03
4
5
6
7
8
9
10
11
12
13
14
15
16
17
18
19
20
21
22
23
24
25
26
27
28
29
30
31
1
2
Venue details
A noir spoof set in the 50s that is fast-paced, ridiculous and jam-packed with jokes. Think The Naked Gun meets The 39 Steps! A show you can watch two or three times and still discover new jokes! It's Manchester 1950, the NHS has only been active for two years. Arnold Grace has been sent to investigate the Royal Infirmary Hospital under allegations that pharmaceutical products are regularly going missing. As Grace digs deeper through the investigation he finds corruption, robbery, fraud and conjoined twins. The show is presented by Death By Pie, who specialise in theatrical comedy.
Share this show
Reviews
Tweets by deathbypieco
Visitor reviews

sarah roberts
As someone who has a very short attention span, I can honestly say "Health Under Fire" cured me for the duration of the act. The whole hour was full of laugh out loud jokes at a machine gun pace. As a member of the audience I had to be on full alert as not to miss any of the action, such as, a member of the cast who might tilt a slight corner of their mouth at just the right moment to add even more comedic emphasis on a joke. The characters were all so different but none less funny than the others. Every member of the cast played their part to a gold star standard. Nathan Smith, I applaud you for making my first Fringe experience (and my first written review) an ever lasting joyous experience and can not wait for you to do an encore along with your very talented, versatile, hilarious cast. Next stop for you all should be the West End.