Daniel Cainer
Daniel Cainer: 21st Century Jew
Music / Cabaret
1pm (1 hour)
6-30 Aug 2015
8 - 10
This is a 2015 show that has now finished.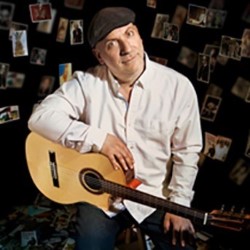 Show details
Music / cabaret starring Daniel Cainer performed on the following days in August 2015...
Mon
Tue
Wed
Thu
Fri
Sat
Sun
03
4
5
6
7
8
9
10
11
12
13
14
15
16
17
18
19
20
21
22
23
24
25
26
27
28
29
30
31
1
2
Venue details
Brand new stories-in-song from this award-winning master songwriter. Fringe favourite Cainer explores the challenges and contradictions of being Jewish in 21st century Britain. A show for anyone who has ever wrestled with their heritage, their history, their home and their heart... Jewish or not. 'At times heartbreakingly poignant, at others laugh out loud funny. Utterly charming, thoroughly recommended' (Edinburgh Festivals Magazine). 'Does on stage what I do on the page' (Howard Jacobson). 'Must see' (Daily Mirror). 'Fast-paced, incredibly amusing, and even a little bit naughty. Genius... an unsurpassed storyteller' ***** (ThreeWeeks). **** (Time Out).
Share this show
Reviews
Full press release
Daniel Cainer's 21st Century Jew will be at times both heart-breaking and hilarious and is for anyone who has ever wrestled with their heritage, their history, their home and their heart... Jewish or not.
Daniel Cainer's theatrical journey back to his roots began at the New End Theatre in London and subsequent incarnations of his award-winning collection of stories-in-song Jewish Chronicles have taken him all over the world culminating in a recent off-Broadway run at the Soho Playhouse in New York and at the Santa Monica Playhouse in LA.
This year he brings to the Fringe a newly written selection of his unusual yet captivating narrative songs against the background of a 'post-Gaza' landscape where attitudes to Jews have become more polarised, and anti-semitic attacks in Europe have increased. Of course this won't stop him from making his unique, funny and wise observations through stories about his family and the Jewish world as he sees it - both as an outsider looking in and an insider looking out. And of particular interest to festival goers, he will be introducing a new piece about the incident at the Fringe last year where vociferous, aggressive and extremely noisy protest forced the Underbelly venue to cancel an Israeli show. Boycotts, bullying, Israel, Palestine... if anyone can find the funny in that, Cainer can!
Daniel Cainer
Daniel Cainer is a theatre maker, songwriter, producer, broadcaster, composer and many other words with 'er' on the end. A lauded Fringe veteran, Cainer's previous shows include Schtick and Spiel (2014), The Jewbadour (2012), More Jewish Chronicles (2011), and Jewish Chronicles (2009 and 2010). In 2007 he wrote the stage musical EX!, a drama/comedy about a marriage break up directed by Craig Revel Horwood (Strictly Come Dancing). An established composer, Daniel has produced music for documentaries and dramas for all major UK networks - writing and performing weekly topical songs on LBC, ITV and BBC national and local radio.
Videos