Charmian Hughes
Charmian Hughes: When Comedy Was Alternative (The Laughs and Loves of a She-Comic)
Stand-up
3:10pm (1 hour)
8-16 & 18-30 Aug 2015
Free
This is a 2015 show that has now finished.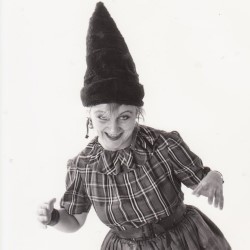 Show details
Stand-up show starring Charmian Hughes performed on the following days in August 2015...
Mon
Tue
Wed
Thu
Fri
Sat
Sun
03
4
5
6
7
8
9
10
11
12
13
14
15
16
17
18
19
20
21
22
23
24
25
26
27
28
29
30
31
1
2
Venue details
Izzard, Brand, Hardee - Charmian's had hot steaming cuppas with them all! Tales of the notorious Tunnel Club, Frank Skinner's avocado, Arnold Brown's sandwiches, Glastonbury and her doomed love affair with Tinky Winky. Special ghosts! 'Best gags' (Independent). 'Humour darker than a bar of Green and Blacks 85%' (Leicester Mercury). 'Charming ribaldry' (Guardian). 'Like Josie Long's mum' (Chortle.co.uk). 'A good story well told!' **** (One4Review.co.uk). 'Hughes has an engaging chatty style and a wry, subtle wit. One for fans of comedy history and also fans of comedy in general.' (Bruce Dessau). Arthur Smith's Pick of the Fringe, 2014. Glastonbury MC. HuffingtonPost.co.uk blogger. www.charmianhughes.co.uk. Free!
Share this show
Reviews
Press coverage
Full press release
Once upon a time, in the olden 1980's days, when Left was Right, and The Goodies had to stand alone against the tyranny of Margaret Thatcher armed only with only an Arts Council Grant and a brace of juggling clubs, then truly, Comedy was Alternative.
Forged from these revolutionary fires came some of the finest comedians of their generation, plus Charmian. Some of them are now on your telly, some faded away into insanity; but with a career spanning 1984 to the present day, Charmian continues to happily tread a space somewhere in between.
Now she tells all in a new show, When Comedy Was Alternative (The Laughs And Loves Of A She-Comic), packed with jokes and stories - her first open spot in the bear-pit of the notorious Tunnel Club, the death-threat heckling, Frank Skinner's first avocado, a doomed love affair with Tinky Winky, and a compulsory drugs hell.
When Comedy Was Alternative looks at a time when people really believed Comedy had the power to change how we think and live. And shows how even if comedy can't save the world, it can save the girl.
---
Tweets by charmianhughes