Bump
Bump
Theatre
11am & other times, see below (50 mins)
5-31 Aug 2015
6 - 8
This is a 2015 show that has now finished.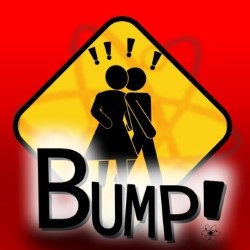 Mon
Tue
Wed
Thu
Fri
Sat
Sun
03
4
5
6
7
8
9
10
11
12
13
14
15
16
17
18
19
20
21
22
23
24
25
26
27
28
29
30
31
1
2
Days marked with a * indicate a different time, room or venue.
Differing performance details
5 Aug, 12:15pm
6 Aug, 12:15pm
7 Aug, 12:15pm
8 Aug, 12:15pm
9 Aug, 12:15pm
10 Aug, 12:15pm
11 Aug, 12:15pm
12 Aug, 12:15pm
13 Aug, 12:15pm
14 Aug, 12:15pm
15 Aug, 12:15pm
Venue details
In this fast-paced, highly physical piece, Eliana and Ian seem to move in harmony as we watch their happiness and struggles on a very intimate level. Bump provides plenty of humour with many twists and turns along the way.
Share this show
Reviews
Full press release
With a highly physical and quick-paced energy, Bump, is a two hander that explores the lives of Eliana and Ian, who collide and become intertwined.
Bump is unique in that the two characters share their thoughts directly with the audience whilst in conversation with one another. Sometimes their words overlap as they turn in and out to the audience in a speedy rhythm. This provides plenty of humour, but the plot quickly propels the audience into the pair's happiness and struggles on a intimate level. Bump is funny, with elements of sadness and invites the audience to experience the pair's twisting and turning interactions.
As an apprentice company of the Redbridge Drama Centre in London, Buckle Up Theatre Company take the next step in their journey by bringing two new shows to the Edinburgh Fringe Festival this year. The other is titled Buckle Up (SpaceTriplex 17-29 Aug), a farcical, immersive comedy set on a plane.
The company was founded by three Mountview graduates who are passionate to create new writing that focuses on comedy, modern clowning and providing an experience that encourages their audience to become active participants in the lives of the characters they are watching. Bump is written by Andrew Hollingworth who is a co-founder of the company.
---
Credits
Tweets by BuckleUpTheatre