Bob Walsh Wrong Cast
Wrong Comedy With Bob 'Walshy' Walsh And The Wrong Cast
Comedy
9:45pm (1 hour)
8-29 Aug 2015
Free
This is a 2015 show that has now finished.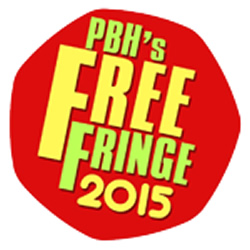 Show details
Comedy performed on the following days in August 2015...
Mon
Tue
Wed
Thu
Fri
Sat
Sun
03
4
5
6
7
8
9
10
11
12
13
14
15
16
17
18
19
20
21
22
23
24
25
26
27
28
29
30
31
1
2
Venue details
Brochure note
This show was not listed in the official Fringe programme so you may not find details elsewhere.
Multi 5 star Free Fringe Institution WRONG Comedy does exactly what it says on the tin. Its just delightfully WRONG. Walshy and his carefully chosen cast of the more outrageous, unusual and offensive acts around put on an hour of utter joy for you wronguns out there.
Share this show
Visitor reviews

Colin Muirhouse
Got home last night from a week in Edinburgh and as the last show I saw was Wrong Comedy I thought I'd start with it as my first review. I've rated this as 4 star and ironically this 1 away from 5 is due to the show's main man Bob Walshey Walsh. The night I went to the show it was clear he was enjoying his performance way more than anyone in the audience. You got the feeling he was maybe once a big name in comedy but has long since passed his sell by date and is now scraping the barrel by trying to surround himself with talented people to detract from the fact he has nothing to offer a modern comedy audience. That said, the others on the bill did make up for his awful input. First up after Bob had "warmed up" the room was a guy called Boyce. Personally I'd have thought he'd be on last because he was just brilliant. Perfectly fitting the wrong comedy remit with near the knuckle gags he was probably the funniest comedian I'd seen that day. After him was a weird woman who sang. Can't remember her name or much of her act which wasn't so much wrong as it was just a bit weird but for some inexplicable reason it was funny. Aussie Pam Ford, aka Cougar Pam. was next. Pam has the dirtiest most infectious laugh that frames many of her wonderfully filthy gags. I'd like to have seen more of her and less of Bob. After Cougar Pam we had a Scottish magician called Kyle. After the singer I thought this was going to be just another weird act shoehorned into the wrong comedy format, but I was very wrong (get what I did there). To be honest, I'm not keen on magic, but if all magicians were like this I'd be more up for it. He was very funny and the mindreading trick he did completely blew the audience away. It's still bugging me how he did it. The last act I can only assume was there to make Bob look good as he was completely devoid of any stage presence (other than the fact he was so large he filled it) and delivered everything in a low energy dead pan style that if he'd been on any longer would have put the room to sleep. I'm giving a star for every act I enjoyed so 4 good acts out of 5 isn't bad. I'm choosing to simply ignore Bob's cringy links in-between and if you are going to see the show I suggest you do the same.