Adrienne Truscott
Adrienne Truscott's A One-Trick Pony!
Stand-up
8:15pm (1 hour)
5-17 Aug 2015
7.50 - 14
This is a 2015 show that has now finished.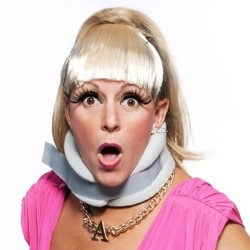 Show details
Stand-up show starring Adrienne Truscott performed on the following days in August 2015...
Mon
Tue
Wed
Thu
Fri
Sat
Sun
03
4
5
6
7
8
9
10
11
12
13
14
15
16
17
18
19
20
21
22
23
24
25
26
27
28
29
30
31
1
2
Venue details
Your No.1 GPRL (Gimmicky Pantsless Rape Lady) is back!! With more gimmicks and a brand new pussy? It's a sometimes naked hour of wrestling: wrestling with jokes, irony, standing up, comics, hookers, fish, race, racist hookers, ironic fish, trolls, Foster's, her favourite dead (?) comedian and the difference between being a one-trick pony and a horse's ass. She may have gotten too big for her britches, but here she comes to save the day. Comedy isn't for pussies, so she's throwing hers back in the ring. (Trigger warning: This show is not about rape.)
Share this show
Reviews
Press coverage
Full press release
Following a year-long tour of her multi-award-winning Adrienne Truscott's Asking For It: A One-Lady Rape About Comedy Starring Her Pussy and Little Else, a simultaneously sobering and hilarious comedy about rape, rape culture and rape jokes wherein she didn't wear any pants - the issue was raised: was she or wasn't she? Is she a one-hit wonder? A comedian or a performance artist? How do you follow up a show like that? With a sequel?! Do you take more clothes off or put some on?
Her new show, Adrienne Truscott's A One-Trick Pony, starts where the last show left off and leaves it entirely behind. Still brazen, still political and as gimmicky as she wants to be, Truscott brings her absurdist's touch to the low-down art of stand- up comedy. She's found the perfect dress, but probably won't get it on in time for curtains.
With more gimmicks, more hair, and possibly pants, this show is about wrestling with telling jokes while standing up. It's also about hookers, fish, race, racist hookers, ironic fish, Indian face paint, names the internet has for pussy, trolls, Foster's and the difference between being a one-trick pony and a horse's ass.
For more than 15 years, Adrienne Truscott -- choreographer, circus acrobat, dancer, writer, and as of late, comedian--has been making genre-straddling work in New York City as well as the Melbourne International Comedy Festival, Just For Laughs, Adelaide Fringe, Darwin Festival, PS122, Joe's Pub, The Kitchen, Dublin Fringe, Danspace and Dance Theater Workshop. The Wau Wau Sisters, her neo-vaudevillian collaboration with Tanya Gagne, have performed at iconic venues such as the Sydney Opera House, Joe's Pub and CBGB's (NYC), Victoria Arts Centre (Melbourne) and The Roundhouse (London), and are regular fixtures at the Edinburgh, Melbourne, Brighton, Adelaide, Perth and Philadelphia Fringe Festivals, as well as often starring in the likes of La Soiree and La Clique. Truscott has taught at Wesleyan University Dance Department as a visiting artist, and guest taught at Sarah Lawrence.
---
Tweets by mrs_truscott