Kate Smurthwaite: Can political comedy change the world? (Or how I got naked and started a revolution)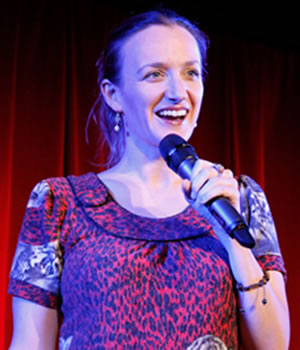 The first time the Edinburgh Fringe brochure allowed comedy shows to include their genre in their listing I put "political". I was surprised to see only a handful of shows described themselves that way. Not that I have anything against silly jokes, observational comedy, puns or surrealism, but having gone to all that trouble to get people to listen, I feel compelled to say something important.
This year's Fringe has dozens of shows with the "political" tag. Bear this in mind next time someone asks "what has the coalition government ever done for us?".
The flip side of the argument is "Why bother?". People come to the Fringe to be entertained, to take their minds off the ravages of austerity and whether Ed Miliband can eat a bacon sandwich in a charismatic way. The only people at political shows are the ones who already agree with you. You're just preaching to the choir.
I'm well aware that's usually true. Not always. Two years ago I was MCing at late night comedy extravaganza Spank! and took my clothes off on stage. If you've been to Spank! you'll know that is neither "what the show is about" nor particularly surprising.
At the risk of reinforcing boring stereotypes about marketing, the next day my show was full beyond capacity - and not with the sort of people who were expecting jokes about feminism and electoral reform. Afterwards I had a brilliant conversation with a die hard Top Gear fan about objectification of women in the media. He told me he was going to join the campaign group Object. I hope he didn't list his reason for signing up as "I've seen Kate Smurthwaite's tits".
But I don't think it matters if a lot of the time we are preaching to the choir. After all, more than anyone, the choir like to be preached to. On my day off I'll often take in other political shows. Not so much looking for new facts or information but for the sense of community. Activism is a frustrating business in the face of what usually appears to be monolithic indifferent government. It's good to remind ourselves we're not alone - and to laugh about it.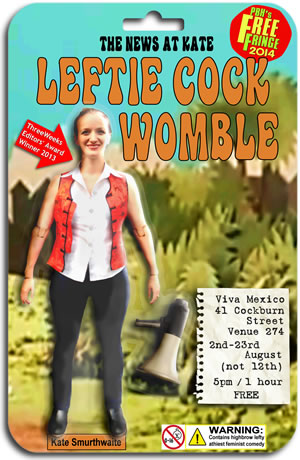 The power of political comedy is not that it shows us injustice we were unaware of but that it articulates the injustice we already feel. It hears us and believes us and channels our rage.
So now the numbers. This year my political show The News At Kate: Leftie Cock Womble runs for 21 shows in a fifty-seat venue. Thats one thousand and fifty people who'll catch the show if we're full (which we were last year in a bigger venue). Let's ignore the odd fifty, they may be the ones who showed up cos they'd seen me naked.
That leaves a thousand people who already agreed with me but now feel - consciously or subconsciously - slightly emboldened in their view. Maybe enough to sign and share a petition about Page 3 or write to their MP about protecting services at their local hospital. Maybe enough to stand up to the next person they hear criticising a female politician for not being attractive.
And maybe, maybe for a tiny proportion the boost is enough push them into starting something new. A campaign group, a website, a movement, a revolution?
Last year a woman saw me perform in Newcastle and decided to start a petition asking for me to be a panellist on Question Time. It worked, and exposed me and my views (but not my tits) to an audience of around three million.
If I can reach that many again this year it'll definitely be worth it.
'The News At Kate: Leftie Cock Womble' is at 5pm at Viva Mexico on Cockburn Street until the 23rd August. Listing
Kate is also appearing in: The Evolution Will Be Televised at 8:20pm at Ciao Roma and Late With Kate at midnight at Canon's Gait.