Jollyboat
Jollyboat - Not Seen On TV
Music
7:30pm (1 hour)
3-24 Aug 2013
Free
This is a 2013 show that has now finished.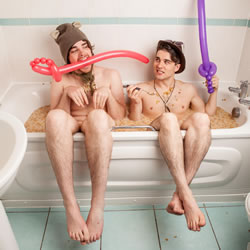 Show details
Music starring Tommy Croft and Ed Croft performed on the following days in August 2013...
| Mon | Tue | Wed | Thu | Fri | Sat | Sun |
| --- | --- | --- | --- | --- | --- | --- |
| | 30 | 31 | 1 | 2 | 3 | 4 |
| 5 | 6 | 7 | 8 | 9 | 10 | 11 |
| 12 | 13 | 14 | 15 | 16 | 17 | 18 |
| 19 | 20 | 21 | 22 | 23 | 24 | 25 |
| 26 | 27 | 28 | 29 | 30 | 31 | |
Venue details
Foster's Comedy Award Winner (2015)... or 2016 at the latest. We've written a really funny show but unlike SOME comedians, you won't find us selling out and having a successful TV career.
Share this show
Full press release
The best show we've ever done! Includes Star Wars Puppets, Keyboard Cards, Balloon Swords, loads of New Songs and even better... it ends on a medley of Pirate Parodies - of our OWN SONGS. Yup, you heard right. Pirate Jesus. Pirate Keyboard Cards. Jollyception.
Free Entry, at the Best Time (19:30), in a Huge Central Venue (Base on Cowgate), for the WHOLE Fringe (3rd-24th Aug). If this doesn't get 5 Stars, there's something wrong with the reviewers.
Jollyboat is a musical comedy double act. Formed in Liverpool in 2010, the act comprises brothers Ed Croft and Tommy Croft. They are known for their Pirate Pop Songs and Jesus Rap. In 2011, Jollyboat won the Musical Comedy Awards. They have performed shows at the Edinburgh Fringe Festival in 2010, 2011 and 2012 each to positive reviews, including recommendation from The Independent.
Before forming Jollyboat, the brothers began performing in 2007 in their home town of Todmorden and at their local open mic in the neighboring town of Hebden Bridge, winning local awards for their novelty songs and performance storytelling. They later began working together as a variety and sketch act, the Amazing Tom and Ed Brothers, and regularly hosted fundraising shows for Amnesty International.
Ed left home to attend the Liverpool Institute of Performing Arts, where he received songwriting tuition from Paul McCartney. Jollyboat was created to be performed at Ed's graduation show from LIPA in 2010, where the brothers played comic songs inspired by shared childhood experiences. This early set included their medley of pirate pop songs, which were inspired by the comic computer game The Secret of Monkey Island. The name Jollyboat was chosen because it refers both to pirates and comedy. A 'jolly boat' is a small rowing boat.
In August 2010 Jollyboat performed their debut Edinburgh Fringe Festival show, to a consistently full house on 20 dates. In the final show, the audience filled the aisles, standing and sitting in every available space.
In 2011 Jollyboat won the Musical Comedy Awards, receiving praise from celebrity comedians Neil Morrissey and Mitch Benn. Tommy commented that this victory had taken them "from the back room of pubs to the West End in less than a year". The duo also won several Liverpool comedy competitions, including Laughterhouse New Act of the Year, the Best of Rawhide Raw and the Hot Water New Act of the Year.
Jollyboat's 2011 Edinburgh Fringe show received 5 star reviews, and was recommended by The Independent as one of the best acts of the Free Fringe. The group performed over 60 shows during that month. The brothers are very close, having stated that they "live together, work together and share the same imaginary friend".
Critics have commented on the brother's enthusiastic presentation, including a "likeable onstage presence", a "tangible passion for entertainment" and their "almost psychic connection on stage", which is often attributed to their close relationship. Fringe Review placed Jollyboat in their Top 5 Comedy shows of 2011.
---
Credits
Tweets by JollyBoatBros
Visitor reviews

LucyAnnaGray
Couldn't believe that this was a free gig! The songs were hilarious and innovative; one of my favourite musical acts of the Fringe.