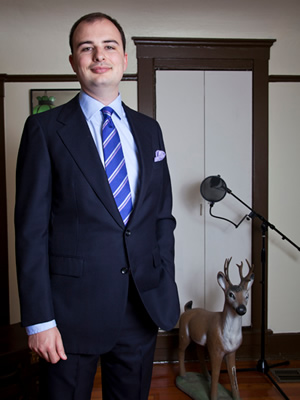 We sent Michael Park to meet Jesse Thorn, the king of American podcasting and bailiff to Judge John Hodgman, to find out more about his plans to bring his shows International Waters and Jordan, Jesse, Go! to Edinburgh and London this month.
What led you to start Maximum Fun, your podcast network?
I'd been doing my radio show for five or six years, and I wanted to try and find a way to do it for money. When podcasting was invented, I moved to LA, started three new shows, and went for it. A network was born.
How would you sum up the ethos of Maximum Fun and the podcasts you produce?
Our logline is "comedy and culture, creator owned, listener supported." I think our shows - be they ones we produce or ones we just distribute - are unafraid to be smart, fascinating, low- or high-brow, and funny. In any combination.
You recently gave away 1,000 ice cream cones in Denver, Colorado. What possessed you to do it?
It was an idea I had while I was buying ice cream at a drug store where it was 99 cents a cone. I thought, "at 99 cents each, I could buy a thousand ice cream cones!" I'd been thinking about it for years since, but I couldn't figure out how to actually do it.
Last summer, a listener to my show Jordan, Jesse, Go! was in the Olympics as a Modern Pentathlete. I asked her what she needed, and our listeners ended up raising about three thousand dollars to buy her a laser gun, which they use in the target shooting. So I figured we had the power. And we just... you know... did it.
How did it go?
Honestly it was pretty amazing. People just really love ice cream. And to give it to them, and tell them that a stranger bought it from them... it was just really wonderful. Just to see people's faces. Including kids and dogs. It was a long day of work for us, but that made it just fly by.
You also run a the Atlantic Ocean Comedy & Music Festival which, as the name suggests, takes place on a cruise from Miami, Florida. Where did the idea to combine comedy, music and shuffleboard come from?
We run a small annual gathering called MaxFunCon, outside Los Angeles. It's a couple hundred people, workshops, shows, that kind of thing. I wanted to do something like that on a larger scale, and more vacation-y. And I had these music friends to invite, like John Darnielle and Nellie McKay, and these comedy people like Marc Maron and Josie Long, and I just thought it would be fun.
The shuffleboard part is pretty much a shoo-in. I mean, that's like the whole point of going on a cruise ship.
You've worked with 'Boy Detective' Jordan Morris for many years now, going right back to The Sound of Young America. What would you say is the secret of a long-lasting comedy partnership?
I can't tell you why he works with me. Probably my good looks.
I can say that I'm still working with him for a few reasons. First, he's one of the funniest guys I've ever known. Maybe the funniest. And that's coming from someone who places way, way too much emphasis on how funny someone is when developing personal relationships.
Secondly, we've always been on the same page about working hard to achieve our goals. A lot of times, talented people figure their talent will carry them through, and they're flaky or lazy or whatever else. I've always known that if Jordan and I schedule a rehearsal or a recording or a meeting, he will be there, prepared. Probably more than I. That's so, so valuable.
He's also just a great guy, and a great friend. Always has been.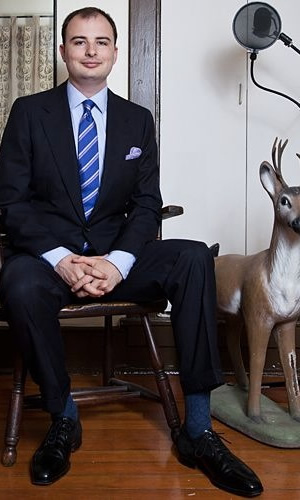 In addition to Jordan's moniker of 'Boy Detective', you are often known as 'America's Radio Sweetheart'. How did these nicknames come about?
Our show used to be called The Sound of Young America, which we thought was kind of a funny name for a college radio show that aired at 7:30 in the morning in the vacation town of Santa Cruz, California. We had stupid nicknames from the start. Those ones, actually. Now we kind of can't get rid of them. I stopped using it on my public radio show a few years ago and there was a fan riot. Honestly, they're a little embarrassing, but they keep us humble. Along with every other part of our career.
There are almost 300 episodes of Jordan, Jesse, Go! How would you recommend that newcomers get into an established podcast?
I always say: start with the newest episode. Podcasts, more than any other media, aren't always ready for prime time when they launch. If you love the newest episodes, simultaneously go back to the beginning and catch up. But prioritise the new stuff, so you can be a part of whatever's happening in the now.
You're bringing Jordan, Jesse, Go! and International Waters to the UK this month. Are you excited about bringing the shows to a British audience?
We really are. We were in London a year or two ago and had such an amazing time, sold out a couple of shows and I love to spend any time I can in that totally amazing city. I'm also a menswear blogger, and London's probably the greatest menswear city in the world, so it's exciting for me beyond the shows and the culture and all that. We've never been to Edinburgh, but we're really excited to be part of that. And, honestly, to visit a castle. I know that's old hat to all you Britons and Scots and Europeans, but we don't have castles, and castles are fucking cool.
Have you performed in Britain before? Do you find there's a difference between British and American humour?
We have. I think there are some differences - especially with English humor. There's a lot of class stuff that means something different in the States. There's a lot of stuff with people keeping up appearances and trying to keep things quiet and under control and the related discomfort that's special to English culture, I think. And there's a bit more head humour in England - talky stuff. But I'm not one of these people who thinks Americans don't understand irony or whatever. That's ridiculous.
Can you give us a sneak preview of your special guests for the UK shows?
In Edinburgh, we'll have the amazing Canadian comic Graham Clark, who is the host of Stop Podcasting Yourself, one of our MaxFun podcasts. He's brilliant and makes paintings with his beard for charity. Also a variety performer named Mat Ricardo, who I met through the menswear world - he's going to do some amazing tricks.
In London, it looks like we'll have some combination of our friend Dave Hill, the brilliant American comic and musician; Josie Long; Helen Zaltzman from Answer Me This; and other friends. We're still booking, but there are a lot of great choices.
Thanks for speaking to us, Jesse. If people want to come and see you and Jordan go 'Full Chort' in the UK, where can they find you?
Our Edinburgh show is the night of August 22nd at the Pleasance, and our London shows are the afternoon of August 25th at the Phoenix. You can find all the links and so forth on our website at maximumfun.org - the show listings are on the right side of the page.
You can also see Jesse at the Edinburgh Fringe as a guest at the Do The Right Thing podcast recording on Wednesday 21st.