Demi Lardner and Edd Hedges win 'So You Think You're Funny?' 2013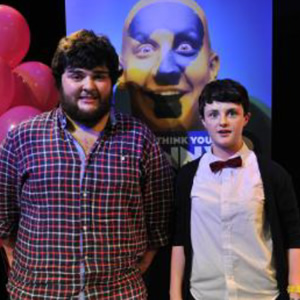 Edd Hedges and Demi Lardner have been named joint winners of the 'So You Think You're Funny?' new act stand-up competition.
It is the first time in the competition's long history that there has been a tie for first place, with the judges unable to pick one contestant over the other.
Nine comedians took part in the final at the Gilded Balloon on Thursday night, with Australian Demi Lardner and Essex-based Edd Hedges both impressing the judges in their 8 minute sets. Laura Mclenaghan was named as the runner up.
Now in its 26th year, 'So You Think You're Funny?' is one of the country's most prestigious new act competitions. Previous winners have included Lee Mack, Peter Kay, David O'Doherty and Dylan Moran.
Lardner and Hedges share the £7000 prize fund, and will now get to perform as part of Montreal's Just For Laughs Festival.
The live show was compered by Zoe Lyons, and the judges were Karen Koren (Gilded Balloon), Angela Robertson (Universal), Susan Provan (Melbourne Festival), Zoe Rabnett (Just For Laughs), Helen Hawkins (Sunday Times), Bruce Dessau (Evening Standard) and Sarah Millican.
Edd Hedges submitted the following biography into the competition: "Hello! Nice to meet you. I'm Edd, I'm from Essex (the nice part) and I spend most of my time in London talking to strangers, which I was warned not to do as a child, but has now gotten me to this competition. Next up, get in a strangers' car!"
Demi Lardner, who describes herself as "a comedian, writer and jungle cat fighter", wrote the following biography: "Demi grew up in constant fear of birds, but also Modbury Heights, Adelaide, South Australia. Demi got onstage at age 16, Since then she has won the 2013 National RAW Comedy Competition, the Adelaide Comedy's Rising Starr Award for Best Newcomer and Bank SA's Best Emerging Comedy Show in Adelaide Fringe 2013 for the production of Wolf Creek, the Musical (co-writer)."