The You, Me, the Witch Makes 3
The You, Me, the Witch Makes 3
Variety
12:10pm (1 hour)
12-18 Aug 2012
Free
This is a 2012 show that has now finished.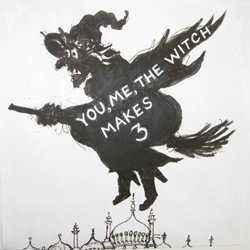 Mon
Tue
Wed
Thu
Fri
Sat
Sun
01
2
3
4
5
6
7
8
9
10
11
12
13
14
15
16
17
18
19
20
21
22
23
24
25
26
27
28
29
30
31
Venue details
A participating children's show for 3-8 year olds. Songs, magic and puppetry are woven into a fight between the bullying Wicked Witch and her intended victims, Jaydey and Fartypants, whose life is about to be turned upside down by the Witch's plans to erect a multi-storey car park on their patch. Morty the Werewolf enters the fray, but the fate of our hopeless heroes lies with the children in the audience - can they scare the horrible Witch away with their party blowouts and kazoos?
Share this show
Full press release
You, Me, the Witch Makes 3 is a brand new children's play having its debut in this year's Fringe Festival (Free Fringe Laughing Horse).
It's based on the time-honoured theme of victim versus bully: the Wicked Witch (together with her side-kick, Morty the Werewolf) does everything in her power to evict the two innocent heroes Jaydey and Fartypants from their campsite, in order to erect a multi-storey car park. This is a mixed-media production including film, puppetry, music, comedy and illusion (all the actors are stand-up comedians).
The aim is to entertain the children's parents as well as the children themselves (age 3 upwards), and there is plenty of participation as the audience is invited to enter into the fight against the Wicked Witch.
Written and directed by Janet Bettesworth.
Credits