Spring Day
Spring Day: Learn How To Take A Punch - Free
Stand-up
6:30pm (1 hour)
2-26 Aug 2012
Free
This is a 2012 show that has now finished.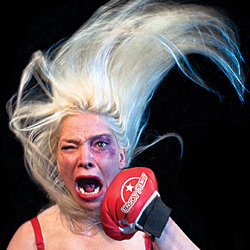 Show details
Stand-up show starring Spring Day performed on the following days in August 2012...
Mon
Tue
Wed
Thu
Fri
Sat
Sun
01
2
3
4
5
6
7
8
9
10
11
12
13
14
15
16
17
18
19
20
21
22
23
24
25
26
27
28
29
30
31
Venue details
What's it like having a boxer as a dad? Severe southpaw with mild cerebral palsy, Spring Day is back in Edinburgh from Japan to bring you balls to the wall bare-knuckled comedy that's straight from the heart and hits below the belt. You will not want to miss this barnburner! Watch as Spring fights a hard-knock hippie upbringing one-handed and bites off its ear. The combination of fresh, agile and impish punch-lines will leave you slap happy if not flat out punch-drunk. 'A definite must see' **** (ThreeWeeks).
Share this show
Reviews
Full press release
What's it like having a boxer as a dad?
Severe southpaw Spring Day invites you to a balls to the wall stand-up comedy show. Spring Day (her real name!) has been described as a cross between a Southern Beauty Pageant contestant, Sharon Osbourne and a bottle of whiskey. Come to this fast and fun barnburner and expect bare-knuckled, relentlessly cheeky comedy straight from the heart that hits below the belt. It'll leave you slaphappy!
Spring Day's background:
As featured in the 2008 movie documentary, The Tokyo Comedy Store, Spring has been a headlining performer at The Tokyo Comedy Store for 10 years, writing and performing in both English and Japanese. Spring has opened for Dave Attell, Tanyalee Davis, as well as, Japanese comedian Zenjiro in the 2004 Melbourne comedy festival. Spring regularly performs in France, Ireland, the U.K. and the U.S.
In 2012, Spring became a regular performer at Flappers comedy clubs in Los Angeles and at the Tomorrow Show at the Steve Allen Theatre.
In the 2011 Edinburgh Laughing Horse Fringe Festival, she received a four-star review from ThreeWeeks for her show, Spring Day: Sushi Souffle.
Spring also performed at Pranzo Comedy Show in Paris, France.
In May of 2009, Spring toured the Dublin comedy circuit, performing at the Comedy Shed, the Ha'Penny Comedy Club, The Bankers, and at the Twisted Pepper with Comedy Ireland, among others.
In 2004, Spring performed for sold out audiences in the Melbourne International Comedy Festival, opening for Japanese comedian, Zenjiro.
In 2003, Spring Day did her U.K. tour performing at various clubs in London including the Comedy Bunker and Mirth Control. She then took her act up to Manchester and played at The Buzz.