Richard Herring
Richard Herring: Talking Cock - The Second Coming
Stand-up
8:15pm (1 hour)
1-26 Aug 2012
12 - 16
This is a 2012 show that has now finished.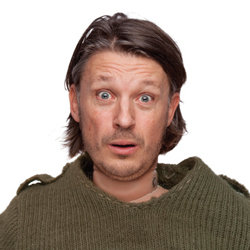 Show details
Stand-up show starring Richard Herring performed on the following days in August 2012...
Mon
Tue
Wed
Thu
Fri
Sat
Sun
01
2
3
4
5
6
7
8
9
10
11
12
13
14
15
16
17
18
19
20
21
22
23
24
25
26
27
28
29
30
31
Venue details
An object of shame and pride; inspiring laughter and fear; a symbol of power, yet incredibly fragile; it creates life, it can condemn us to death... and it can do wees too. For his 25th anniversary Fringe, Herring updates the hit show that exposes the truth about the porridge gun. 'Man's answer to the Vagina Monologues' (Guardian). 'An impassioned and thoughtful disquisition on masculinity' (Observer). 'His cock is as funny and fascinating for women as it is for men. I loved it. I only wished it could have been longer' (Scotsman).
Share this show
Reviews
Press coverage
Full press release
Richard Herring, "The King of Edinburgh" (The List), returns to the Fringe in his Silver Jubilee year (he first performed here in 1987) to find out all about men and their spam javelins, in this reworking of his smash-hit 2002 show, Talking Cock.
It's an object of shame and pride; it can inspire laughter and fear; it's a symbol of power, yet it's incredibly fragile and weak; it can be a pound of flesh or an ounce of winkles, it can be used to express both love and hate; it creates life, it can condemn us to death... and it can do wees as well.
How can one tiny flap of sponge and sinew be all these things?
Though men may brag and exaggerate about their little chap, they rarely talk honestly about it or their insecurities. Whilst women celebrate their sexuality in worldwide smash The Vagina Monologues, men are twisting their genitals into the shape of hamburgers in Puppetry of the Penis. Isn't it time for the twisting to stop and the schlong celebration to begin. Isn't it time for a Vagina Monologues with balls?
But this is not a competition, more of a quest to bring us all together regardless of sex or sexuality. Talking Cock is a show for men and women, straight and gay, because like Quality Street, genitals are for sharing (and it's annoying when you end up with the green, unpleasant tasting ones) and we all owe our life (in part) to a penis.
Using rigorous research and two anonymous Internet questionnaires (one for men and one for women) this is an hilarious, but serious attempt to get to grips with the bald-headed mouse and discover the sensitive truth about men's secret fears. It also aims to answer questions like:
- Is size important? And if not, why are there no two-inch, pencil thin vibrators?
- How can men cope when getting harder is getting harder?
- Is masturbation exciting because it is sex with someone that you pity?
- Where have men put their penises for fun? Though it might have been quicker to ascertain where they hadn't put their penises for fun.
---
Tweets by Herring1967