NewsRevue
NewsRevue
Satire / Sketch show
6:20pm (1 hour)
1-13 & 15-26 Aug 2012
12.50 - 13.50
This is a 2012 show that has now finished.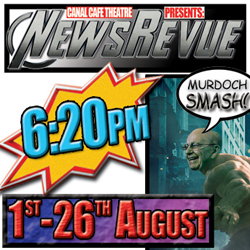 Show details
Satire / sketch show performed on the following days in August 2012...
On 6th and 7th tickets are two for one.
Mon
Tue
Wed
Thu
Fri
Sat
Sun
01
2
3
4
5
6
7
8
9
10
11
12
13
14
15
16
17
18
19
20
21
22
23
24
25
26
27
28
29
30
31
Venue details
Guinness World Record-breaking Fringe favourites mock the year's news events, mercilessly lampooning those in the public eye. No one is safe - politicians and celebrities alike come under fire in a turbo-charged barrage of bladder-threateningly funny songs and sketches that are so close to the bone you can almost see white. The sing-off between Cameron and Salmond, in a hilarious re-working of Destiny's Child's Independent Women, makes it worth the ticket price alone. This award-winning sketch show is flawlessly delivered by four outstanding performers at lightning speed accompanied by an on-stage musical director. One of the best-reviewed shows, Edinburgh 2011.
Share this show
Reviews
Full press release
The Guinness World record-breaking NewsRevue is back for its 33rd year, and will be celebrating a 33rd anniversary at venue 33 on 18th August.
A compilation of the best material from Canal Café Theatre's weekly updated London shows, NewsRevue takes a sardonic look back over the biggest events of the year. Expertly written by a 40 strong team from throughout the UK, this is a fast-paced mix of sketches, songs and gags.
Highlights include an unexpected sing-off between David Cameron and Alex Salmond, the Queen in all her Jubilee glory and a re-working of Casablanca that would have Nick Clegg blubbing like a baby. With the eyes of the world on the UK and a certain large scale sporting event, NewsRevue proudly presents the best of British satire.
NewsRevue is flawlessly delivered by four outstanding performers accompanied by an on stage musical director, a post previously held by Bill Bailey. The ones to watch this year are: Luke Coldham, Rebecca Jayne Harper, Oliver Izod and Jenny Bede (who has become a YouTube sensation as a satirical rapper). Directed by Award Winning Director Adam Morley, and with Chris Peake as Musical Director.
Previous alumni include: Nick Helm, Pippa Evans, Jess Ransom, Cariad Lloyd, Andy and Ben from Idiots of Ants and Sara Pascoe. In July 2004 NewsRevue was awarded the Guinness World Record for Longest Running Live Comedy Show. Accolades also include a Perrier nomination and a Fringe First.