Michael Blomquist & Matt Payton
Men Of Character - Free
Sketch show
3:05pm (1 hour)
2-26 Aug 2012
Free
This is a 2012 show that has now finished.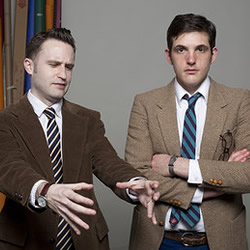 Mon
Tue
Wed
Thu
Fri
Sat
Sun
01
2
3
4
5
6
7
8
9
10
11
12
13
14
15
16
17
18
19
20
21
22
23
24
25
26
27
28
29
30
31
Venue details
Michael Blomquist and Matt Payton don't like each other enough to do a two man show. So, they decided to do two interlinked one-man sketch shows instead. Men of Character highlights individual characters and tells one overall story. It involves kidnapping, running for office, cool guys played by uncool guys, some meteorology, and a wedding. It's free and it's in a bar. So, it's got that going for it. Michael and Matt are American, but smart-ish.
Share this show
Reviews
Press coverage
Full press release
Two Chicago comedians boldly go where many other comedians have gone before.

The Confused Moose are bringing their knack for grounded silliness and whip smart slow-comedy to the Edinburgh Festival Fringe for the first time. Their show, Men of Character, is a two-man solo-sketch show that shines a light on the patrons of Irving's, a Victoritan Gothic themed bar and grill. These are people who, if left to their own devices, would voluntarily fall by the wayside. There's the misanthropic Arthur Morris who hopes to be elected to the school board, the severe storm meteorologist Stanley Standish who must become the on-air weatherman or risk losing his girlfriend, the hyper-intellectual pre-adolescent Thurston Bryant, his single-mother Patricia, and the proprietor of the bar Mr. Irving Echmann to name a few. Each is given equal weight and time, but all are tied together in the end.

Michael Blomquist and Matt Payton are both seasoned vets of the Chicago comedy scene. They met at the infamous iO theater last year and have struck up a bond that has seen them work together as improvisers at that very theater, as writers for a live late-night talk show called (what else?) Tonight It's Live, and as co-hosts on their podcast Slights of the Roundtable. Both are currently members of Second City's professional conservatory and are working towards getting a writing job on a sitcom.

The trip to Edinburgh will be a return to the UK for Michael, who studied in London and ran in the Edinburgh marathon in 2009. He's been looking for a way to get back ever since and always hoped it would be as part of the Fringe. He's excited to take part in the very same festival that has helped launch the careers of his British comedy influences. He's been eating a lot of salt to prepare for the reintroduction of Marmite to his diet. Meanwhile Matt's dad always told him that their surname was Scotch-Irish. But... then again... Matt's dad also told him he'd be something great when he grew up. So, who knows what's real? He's excited to go a country that enjoys reading more than the ingredients on the package of a Twinkie. He's wanted to participate in the Fringe ever since Michael explained to him what it was.

Men of Character is a part of the Laughing Horse Free Festival. A preview for their show will be held on 2 Aug with the official opening date set for 3 Aug. The show runs every day through 25 Aug at 15:05 at the Jekyll & Hyde, making it perfect for an afternoon pint before going out to see the big shows in the evening.
Web Links
Pan-American Accent - A blog about going from the white hot prairie to the temperate Scottish lowlands.
Slights of the Roundtable - A weekly podcast starring Michael Blomquist & Matt Payton from Men of Character.
---
Credits
Tweets by Confused_Moose