Dirty Great Love Story
Dirty Great Love Story
Theatre
1:20pm (70 mins)
1-13 & 15-27 Aug 2012
9 - 10
This is a 2012 show that has now finished.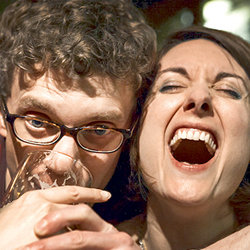 Show details
Theatre starring Richard Marsh and Katie Bonna performed on the following days in August 2012...
On 6th and 7th tickets are two for one.
Mon
Tue
Wed
Thu
Fri
Sat
Sun
01
2
3
4
5
6
7
8
9
10
11
12
13
14
15
16
17
18
19
20
21
22
23
24
25
26
27
28
29
30
31
Venue details
Can a one-night stand last a lifetime? In her eyes, he's a mistake. A mistake who keeps turning up at parties. In his eyes, she's perfect. He's short-sighted. These hopeful, hapless romantics shamble through bleary mornings after, merry Christmas parties and cider-soaked festivals - but can they get together? Or even get breakfast? An achingly funny on-off love story of good intentions, bad timing and friendly livestock. **** 'Richard Marsh's dazzling love-gone-wrong show' (for Skittles, Telegraph). **** 'Pure pleasure ... comedy gold' (for Dad's Money, Scotsman). ***** 'As tight and taut as a third recount'(for Nicked, WhatsOnStage.com).
Share this show
Reviews
Credits
Visitor reviews

Anna McGrath
Favourite show of the Fringe so far. Two very talented and likeable performers who manage to make you believe that there is a 6 person cast. Clever and witty script which leads you down the amusing path of a realistic and, therefore, complicated love story. Some of the lines will have me laughing for days. I'll keep an eye out for these two, I'd love to see them in action again.