Chris Corcoran & Elis James
Chris Corcoran and Elis James - The Committee Meeting
Stand-up
1:30pm (1 hour)
1-13 & 15-27 Aug 2012
9 - 10
This is a 2012 show that has now finished.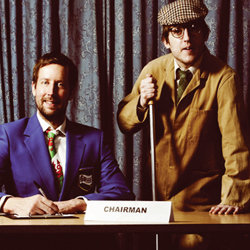 Mon
Tue
Wed
Thu
Fri
Sat
Sun
01
2
3
4
5
6
7
8
9
10
11
12
13
14
15
16
17
18
19
20
21
22
23
24
25
26
27
28
29
30
31
Venue details
The best thing to happen to the Valleys since 1992's Garden Festival of Wales, Chris Corcoran (Radio Wales' Rhod Gilbert Show) and Elis James (BBC2's 8 Out of 10 Cats) bring the best of their 21st-century take on workingman's club culture to Edinburgh. It's a comedy gang show committee style, plus bingo. All members are expected to attend. Simply by reading this you are a member. 'Hilarious - a totally unique experience. If all committees were this much fun I'd buy a blazer and run for council' (Rhod Gilbert).
Share this show
Reviews
Full press release
The Committee Meeting is in session. Take your seats, check your agendas, and get ready for a show unlike any other. The setting is a working man's club in the Welsh valleys where you and your fellow audience are all members. Everyone has a part to play and point to raise as the committee meeting commences...
Conceived by Welsh comedian & broadcaster Chris Corcoran as a way of staging a big "gang show" with Welsh comic Elis James who subsequently came on board to co-write & to perform his character Rex (as made famous on Rhod Gilbert's BBC Radio Wales show). Rex is a 120-year-old Welsh caretaker. He's been present at everything, from the Boer War to the Fall of the Berlin Wall, but he has yet to miss a single committee meeting...
The show has been a smash hit in Corcoran & James' native Wales, and has developed something of a cult following. It has also spawned its own radio show Social Club FM as heard on BBC Radio Wales. Each show also features a special guest: previous guests include Lee Mack, Greg Davies, Lucy Porter, Isy Suttie and Jared Christmas has even featured as Rex's Australian counterpart.
Featuring a Welsh male voice choir, bucket loads of audience interaction and some of the UK's biggest comedic talent, The Committee promises to be one of the hottest tickets on this year's Fringe.
Credits