Big In Dubai
Big In Dubai!
Stand-up
7:35pm (1 hour)
4-11 Aug 2012
Free
This is a 2012 show that has now finished.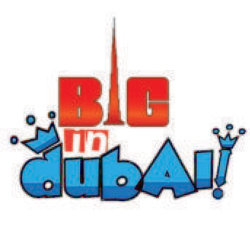 Mon
Tue
Wed
Thu
Fri
Sat
Sun
01
2
3
4
5
6
7
8
9
10
11
12
13
14
15
16
17
18
19
20
21
22
23
24
25
26
27
28
29
30
31
Venue details
Stars of the Dubai comedy scene chance their arm in Edinburgh. We don't pay tax so expect 40% more laughs! Join host Mina Liccione, 'a six foot tall slapstick beauty' (SF Weekley), 'seriously funny' (Gulf News), Ray Addison, 'funny and really rather dashing' (Aidan Goatley, comedian), Jamie Johnson, 'a commanding stage presence' (Richard S Winter, comedian) and Ali Al Sayed, 'a complete all-rounder' (AhlanLive.com), 'one of the most influential comedians around the world' (Toastmasters Magazine, for an evening of unforgettable stand-up comedy!
Share this show
Reviews
Press coverage
Full press release
For the first time in the 65 year history of The Edinburgh Festival Fringe, the United Arab Emirates will be represented with a stand-up comedy show produced by comedians based in the UAE.

Dubai Laughing in association with Dubomedy is bringing 4 of the UAE's best known comedy talents to perform for the very first time in the brand new, hour-long show Big In Dubai!

It marks an ambitious and exciting new stage in home-grown comedy in the UAE and is the brain-child of two of the show's performers, Jamie Johnson and Ray Addison.
Jamie Johnson says "There's no shortage of comedians in Dubai, both professional and amateur, but the focus until now has been inward. Those with drive have built up a fledgling local comedy circuit which still has lots of room to grow. The challenge now is to bring out the audiences we know are there, and to take our product - comedy produced in the UAE - to the outside world - starting with Edinburgh!"

2 BRITS, AN ARAB & A YANK

Big In Dubai! features American host Mina Liccione, British comedians Ray Addison and Jamie Johnson and Emirati headliner Ali Al Sayed, all of whom met on the burgeoning Dubai comedy circuit. The show is a typical stand-up 4 hander, except for the first time audiences will discover what life is really like living and working in the UAE.

Ray Addison says: "There are a lot of stereotypes about Dubai and comedians around the world have created material at the expense of the city and the ex-pats that live there. Now it's our turn to reveal what living in Dubai is really like, from the point of view of three ex-pats and an Emirati National."

The Performers


Mina Liccione is an award-winning entertainer hailing from New York. She's been seen on Broadway (lead comedic role in Stomp), MTV, ABC, MBC, Dubai One, WROC and Abu Dhabi TV. She's performed stand-up alongside renowned comics such as Dean Obeidallah, Ron Josol, Nemr Abou Nassar, Aron Kader, Gabriel Iglesias, Dean Edwards, Tommy Davidson and Hollywood Legend Michael Winslow of Police Academy fame. In 2011 she was one six women chosen as Shape magazine's 'Women Who Shape the World', was named in Ahlan! Magazine's HOT 100 List of 2011 and is widely called 'Dubai's First Lady of Comedy'.

Ray Addison is a British television producer who has worked with some of comedy's best known names, including Richard Herring (Heads Up with Richard Herring), Iain Lee (Celebrity Soup) and Trisha Goddard (The Trisha Goddard Show), although she wasn't intentionally trying to be funny. Addison kick-started his comedy career in 2012 by winning a competition to open for American Comedian Aron Kader with just his second ever stand-up performance. Since then he's been named a 'Top Comic' by AhlanLive.com and gone on to perform regularly at open spots in the UAE. He currently runs his own comedy nights at multiple venues in Dubai and is passionate about helping to grow the UAE's burgeoning comedy scene.

Jamie Johnson burst onto the UAE comedy scene in 2012 with his close to the line performances which Gulf News said 'had us in stitches'. Performances in the UK soon followed including one gig at The Stand in Newcastle with led British comedian Richard S Winter to describe him as 'a commanding stage presence'. An air traffic controller by profession, Johnson is a graduate of York University where he performed many theatrical roles, including a highly-acclaimed turn in The Rocky Horror Show, and was a popular DJ on University Radio York. Jamie is one of the edgiest comedians on the Dubai circuit, pushing the boundaries of taste with the well-crafted insight of a genuine wordsmith. He is also quite large.

Ali Al Sayed is a famed local comedian in the Middle East, as seen on OSN, MBC, Al Hurra, Dubai One, ADTV, as the weekly comedy commentator on Abu Dhabi Sports TV's The Beautiful Game and as a judge for Ahlan! Magazine's 'Best in Dubai' Awards. He was rated 'One of the most influential comedians around the world' by Toastmaster International Magazine, 'King of laughter' by Rolling Stone Middle East and has performed alongside comedy A-listers Maz Jobrani, Sugar Sammy, Dean Obeidallah, Ron Josol, Aron Kader, Dean Edwards, Michael Winslow of Police Academy fame & many more.
---
Credits
Tweets by DubaiLaughing